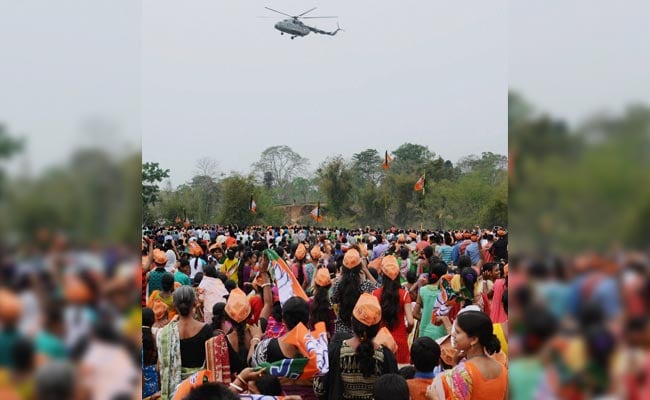 Jangalmahal:
As a part of its security arrangement for Jangalmahal in poll-bound West Bengal, Election Commission has sent a requisition for three helicopters to the Ministry of Home Affairs (MHA) for aerial surveillance in the sprawling forest area.
"We (The Commission) are having security arrangements for Jangalmahal area and for that we have sent a requisition to the MHA for three helicopters ... We are yet to get a confirmation from them though they (the ministry) has briefly committed for it," Additional Chief Electoral Officer Dibyendu Sarkar said on Monday.
"We have briefed the ministry the reason behind the need of the helicopters and they will be used to oversee the security arrangements in Jangalmahal," Mr Sarkar added.
On the number of central forces required in Jangalmahal, which was earlier considered a hotbed of Maoist activities, the election officer said the calculation was still on and the picture would be clear within a few days.
He said there was a high-level video-conference on inter-border security between West Bengal and Assam and the state's "critical borders" with Jharkhand, Bihar and Odisha.
"There was a discussion on where the naka points were erected and which other places it was required in. There were talks on the inter-border movements of miscreants and possible movements of weapons from one state to another," Mr Sarkar said.
Bengal chief secretary, home secretary, chief electoral officer, excise commissioner, senior home ministry and state police officers participated in the video conference, he said.
Top officers from Odisha, Assam, Bihar, Jharkhand also attended the video-conference.
Talking about the number of EVMs to be used in the six-phase polls in the state, Sarkar said 89342 machines have been readied after first randomization as the EC has kept 115 per cent of them ready for the polls in the state.
"We keep 15 per cent in reserve. Apart for this we also require a few for training and awareness building purposes. We have also kept another few ready. Altogether we now have 99523 EVMs," he said.
Mr Sarkar said the voter-verified paper audit trail (VVPAT) would be used in 22 Assembly constituencies. VVPAT would be used in one constituency of every district and in two constituencies - Jadavpur and Behala West of South 24 Parganas, he added.