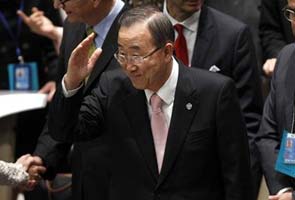 United Nations:
Expressing sorrow over the incidents along the Line of Control (LoC) in Jammu and Kashmir, United Nations Secretary General Ban Ki-moon today said he was "reasonably encouraged" by the efforts of India and Pakistan to resolve their source of conflict through talks.
Ban, who begins a two-day official visit to Pakistan tomorrow, said his "offer of good office remains available" if both countries agree to his mediation.
"While I am saddened by the loss of lives in the course of all this conflict, I am relatively, reasonably encouraged by the recent move by both sides to engage in dialogue, to resolve their source of conflict through dialogue - that I will strongly welcome and support," he said.
The 69-year-old former South Korean foreign minister made the remarks while talking to Pakistani journalists at the UN headquarters in New York.
He was responding to questions about tensions between India and Pakistan following clashes along the LoC.
Asked if he could help India and Pakistan reach a settlement, Ban said he could play a role only if both countries agreed on his mediation.
"My offer of good office remains available. If both sides think this is useful and both sides agree, then I'll be ready to offer my good offices," he said.
Ban said he would expect the Indian and Pakistani leadership to "continue their dialogue, to create some confidence-building measures".
"I was encouraged to see that there was a Kashmir bus service - between the Indian and Pakistani sides. There is some increase in the lines of communications between the leaders. And this may be small, but you can expand this one...," he said.
Ban said tensions along the LoC were a "long-standing issue" and UN military observers had been "trying to prevent any conflict (across) the LoC".
"But you should know that UNZIP (UN Military Observers Group in India and Pakistan) is not mandated with any political role. So, these political issues should be handled and discussed by the leaders of both governments," he said.