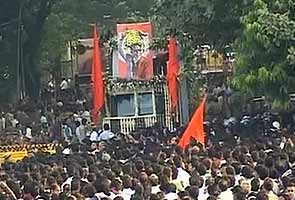 Mumbai:
Bal Thackeray's final journey from his Bandra home, 'Matoshree', to Shivaji Park has begun.
The body will be taken to Mahim Causeway, then to Sena Bhavan, the Shiv Sena headquarters in Dadar where Mr Thackeray's A-list fans and friends, prominent leaders as also Sena workers are expected to gather, to the Meena Tai statue in Dadar and finally to Shivaji Park, where, at a massive Dussehra rally in 1966, Mr Thackeray had launched the Shiv Sena. Mr Thackeray's body will be kept at Shivaji Park till 5 pm for people to pay their respects. His last rites will be performed at 6 pm. (
Follow our special coverage here
)
An open truck is carrying the Shiv Sena chief's body and there will be a three-tier security around it - the Mumbai Police will make up the first layer, the Rapid Action Force (RAF) will be the second tier and Shiv Sena volunteers will make up the third.
The procession was to start at 7 am, but was delayed as roads around Matoshree were filled with thousands of supporters. Bal Thackeray's body was finally brought out of his house a little after 9 am. His son, Uddhav, broke down just before the body was loaded onto the truck.
Security has been beefed up across Maharashtra, particularly in Mumbai, where 48,000 policemen have been deployed to keep vigil ahead of the funeral today. No autorickshaws and taxis will ply in Mumbai today; the Mumbai transport service has arranged for extra buses.
Mr Thackeray died on Saturday afternoon after a prolonged illness. He was 86. (
Read more
)
At Matoshree, where Mr Thackeray's immediate family, including nephew and MNS chief Raj Thackeray, has gathered, security is very tight. As news of Bal Thackeray's death spread, thousands of Shiv Sena workers gathered within minutes outside the Thackeray home. Till late in the night, there was a crowd of about 6,000 people there. About 2,000 cops have been posted there. The police has made an appeal to motorists to avoid the Western Express Highway as roads connecting the Kalanagar area, where Mr Thackeray's residence is located, have been cordoned off.
(Read: Traffic restrictions in Mumbai)
Today, at every 100 metres along the route of the funeral procession, 25 policemen have been deployed. The police has issued a traffic advisory and suggested that people stay home, unless absolutely necessary. "I appeal to people to remain calm and maintain law and order," Mumbai Police Commissioner Satyapal Singh said.
A senior policeman at the Maharashtra Police Headquarters here, said, "The entire police force is on alert in Maharashtra. Lakhs of people are expected to visit Mumbai to get a last glimpse of Thackeray."
Along the procession route alone, around 20,000 cops, 15 companies of State Reserve Police Force and three contingents of the Rapid Action Force have been deployed. The Police Commissioner said he had cancelled his daughter's wedding reception party on Sunday since he would be busy. Many Bollywood stars, important politicians and industrialists are expected to travel across the city today; they visited Mr Thackeray in great numbers over Wednesday and Thursday this week signalling that despite his divisive politics, Mr Thackeray commanded the attention of virtually every camp in the city. (
Read: The legacy of Bal Thackeray
)
Taxis and autorickshaws will remain off the roads today, their associations said here. There will be no cab and autorickshaw services from the city airports - domestic and international - either. BEST has decided to operate extra buses to facilitate travel for the last rites of the Sena leader. The Central Railway has also cancelled the megablocks on Central and Harbour line services tomorrow for the same purpose.
Mumbai has been calm till now, although most shops and other establishments - especially in the Sena stronghold of Dadar - began to close down as news of Mr Thackeray's death came in. There were reports of shop being closed in Colaba and other Mumbai suburbs too and auto-rickshaw and cab drivers in many places reportedly refused to travel across the city for fear of violence or possible vandalism by Shiv Sena workers.
So much of the city wore a deserted look on Saturday evening with shops, hotels, restaurants and other commercial establishments were closed and there was sparse traffic on the streets. "We did not ask anybody to keep their shops shut. People are doing it voluntarily," the police commissioner said.
(With inputs from PTI)