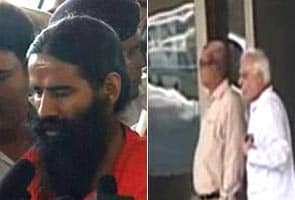 New Delhi:
With Baba Ramdev refusing to call off his fast against corruption, Prime Minister Manmohan Singh called an emergency meeting with his senior cabinet ministers this evening to discuss how to deal with the yoga guru.
Union Finance Minister Pranab Mukherjee, Union Home Minister P Chidambaram and Union HRD Minister Kapil Sibal briefed the PM on their discussions with the yoga guru during the meeting that lasted for over an hour. The leaders are also understood to have discussed Baba Ramdev's proposals and ways to defuse the crisis.
Earlier in the day, Baba Ramdev had declared he was adamant on going on a hunger strike from Saturday if the government does not meet his demands and bring back Indian money stashed in safe havens abroad.
"Till there is 100 per cent agreement on all issues and a decisive stage is reached, the fast will go on", the yoga guru said.
(Watch)
Baba Ramdev's announcement came after hours after meeting with Finance Minister Pranab Mukherjee, Telecom Minister Kapil Sibal, Parliamentary Affairs Minister Pawan Kumar Bansal and Tourism Minister Subodh Kant Sahay. Mr Mukherjee has been deputed by Prime Minister Manmohan Singh to persuade the yoga guru to call off his fast. The four ministers held a meeting with Baba Ramdev at the Delhi airport's Terminal 1.
After the meeting which lasted over two hours, Mr Sibal said, "Baba Ramdev raised significant national issues. We listened and responded to him. We agreed to have dialogue in next couple of days. I am sure we will take all those issues into account."
(Watch)
Baba Ramdev in a separate gathering also said that he had written three letters to the Prime Minister in connection with his demands to tackle corruption. He also called for the need for fast-track courts at the Central and state level to try cases of corruption. The yoga guru also added that social activist and anti-corruption crusader Anna Hazare would join his hunger strike.
Yesterday, Prime Minister Manmohan Singh had also appealed to Baba Ramdev to call off his proposed fast. He had written a letter to him saying, "Corruption is a big problem and we are making serious efforts to tackle it. It's not a divisive issue."
The government clearly worried, doesn't want a repeat of an anti-corruption fast similar to that of Anna Hazare, which had galvanized thousands of people forcing the government to give into the demands of Mr. Hazare. However, Congress' Digvijaya Singh says the party is not scared of the yoga guru.
"If Congress were scared of Baba Ramdev, the party would have put him behind bars. Baba Ramdev is more of a businessman now. He charges Rs. 50,000 for teaching yoga," said Digvijaya Singh, General Secretary of Congress.
Baba Ramdev had earlier said he will start a
satyagraha
against corruption and black money and go on an indefinite fast from June 4. "My hunger strike will go ahead. There is no question of calling off the protest plan till my demands are met and till talks reach a satisfactory conclusion," Baba Ramdev told NDTV yesterday.