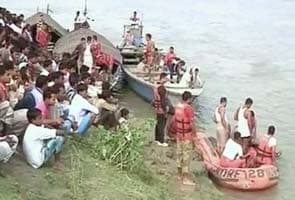 Dhubri, Assam:
Hundreds of people wait at the banks of the Brahmaputra for information on their family members missing in the ferry capsize, as rescuers braving torrential rain search the river at Jaleswar for any signs of survivors.
The double-decker ferry broken into two pieces and personal belongings of the victims strewn all around are a grim testimony to the tragedy that occurred last evening.
"My wife and two children were in the ferry and till now there is no news about them," said Nazrul Islam in tears. "The government is not giving the correct figures. There were more than 500 passengers in the ferry who were crossing the river from Kacharighat area," he claimed.
Islam is among many in Dhubri district bordering Bangladesh who have lost members of their family in the worst ever disaster that took place at 4:20 pm last evening.
Over 100 people are feared dead and many are still missing.
Rescuers fished up personal belongings of the victims from the waters.
The search operation was being carried out by the National Disaster Relief Force (NDRF), the BSF and the Army. Two helicopters were being used, but rough weather was hampering the search operations, a BSF man said.
"The main reason for the tragedy was due to the overloaded boat and bad weather," he said.