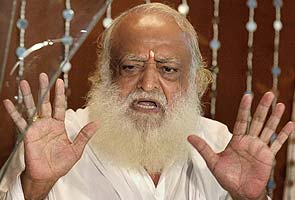 Ahmedabad:
Spiritual leader Asaram Bapu has denied sexually assaulting the teen daughter of a couple who were his disciples. The 72-year-old was served summons on Tuesday, ordering him to present himself in Jodhpur by August 30 for interrogation by the police. That didn't rattle him - he said he has commitments in other cities and will see whether he can fit in his appointment with the police.
Asaram Bapu has a chain of ashrams in states like Madhya Pradesh, Gujarat and Rajasthan and many in other countries - more than 400 in all, according to his official website, which also claims millions of followers.
It was at one such centre in Jodhpur that he allegedly assaulted a 16-year-old earlier this month, who has told the police that he threatened her not to report the crime. Her father has told NDTV, "He asked my daughter to keep quiet else we he would get us killed."
(Read)
In 2008, Asaram Bapu was at the centre of another huge controversy when two young boys were found dead days after they went missing from his ashram at Motera, less than an hour's drive from Ahmedabad. The children were enrolled at a school that was part of the ashram's sprawling premises covering at least 10 acres.
Three days later, the children were found in a river near the ashram, 10-year-old Abhishek's body was half-burnt. His cousin, Deepesh, was a year older; his internal organs had been removed. The police investigated allegations of black magic rituals - rumours of which had swirled for years around the ashram and its leader - but finally, the police concluded that the children had drowned and arrested seven employees of Asaram Bapu's trust who worked at the ashram for criminal negligence.
"The Gujarat police never had the intention to book the real culprits... it's clear that the politicians are shielding the godman," said Abhishek's father, Shanti Vagela to NDTV.
A whorl of rumours of black magic being practiced at the ashram fused with allegations of land-grabbing had been doing the local rounds. The two young deaths impelled public outrage, and Narendra Modi's government tasked a retired judge DK Trivedi to conduct an independent enquiry. After a five-year investigation, the report was submitted to the state government recently, but has yet to be made public.