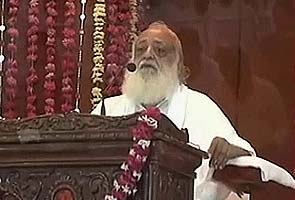 Indore:
Two Rajasthan policemen waited for over eight hours before they could serve summons on self-styled godman Asaram Bapu, who has been accused of sexually assaulting a 15-year-old girl in his ashram in Jodhpur.
The policemen came to Asaram's Indore ashram at 6 am this morning, but were told by his followers that they would have to wait, "the Baba is meditating."
The spiritual leader has been asked to appear for questioning by Friday.
Sources have told NDTV that the Rajasthan Police will also issue alerts to airports across the country, in case Asaram Bapu tries to leave the country.
The Home Ministry has also written to the governments of Delhi, Madhya Pradesh and Rajasthan seeking reports on various complaints against the yoga guru.
The teenaged complainant alleged last week that Asaram Bapu asked her to stay back after prayers at his Jodhpur ashram and sexually assaulted her. In her statement to the police, accessed by NDTV, she also said that the 72-year-old had threatened to hurt her and her family if she reported the crime.
The spiritual leader said some people were trying to "malign the image of saints". He said the complainant was "blameless and pure." "Her parents are my disciples, that makes her my grand-daughter," Asaram Bapu said in Indore yesterday.
The issue was raised in Parliament yesterday with the Opposition demanding answers from the government.