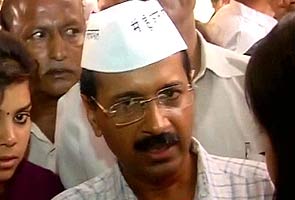 New Delhi:
Arvind Kejriwal today rubbished Congress leader Digvijaya Singh's claim that he had lobbied for an entry into UPA chairperson Sonia Gandhi-led National Advisory Council (NAC) seven years ago, saying he has never approached anyone for this.
"I have never approached anyone for NAC. I never had any desire for being a member of NAC," Mr Kejriwal told PTI when asked about Mr Singh's claims that he along with Swami Agnivesh had met him for help in getting into NAC in 2005-06.
When contacted, Swami Agnivesh said the meeting is said to have happened six-seven years ago and he does not remember any such meeting.
"The issue which Mr Singh raised happened in 2005-06. Time has passed. I don't remember whether I met him with Mr Kejriwal or not," Swami Agnivesh said.
In a letter to Mr Kejriwal, the Congress General Secretary has described the activist as a "self-serving ambitious megalomaniac" having "streak" of Hitler in him. He alleged that Mr Kejriwal wanted him to recommend his name for being made a member of the NAC.
(Read letter)
Yesterday, Mr Kejriwal said Digvijaya Singh's letter describing him as a "self-serving ambitious megalomaniac" does not merit a response and it only showed that Congress party was "completely rattled and baffled".
"Digvijaya's letter to me does not merit a response. Congress seems to be completely rattled and baffled. That is apparent from Digvijaya's letter. Digvijaya seems Congress' last resort," Mr Kejriwal had said.
(Read: 'You are ambitious megalomaniac', says Digvijaya Singh)
Responding to Singh's remarks, Mr Kejriwal's close associate Kumar Vishwas said, "We have only one thing to say to him. Get well soon."