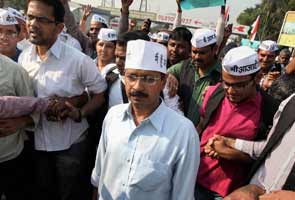 Washington/New Delhi:
Activist-turned-politician Arvind Kejriwal is not a replacement for
Narendra Modi
, who has been controversially dropped as a keynote speaker by the prestigious Wharton business school at its India Economic Forum to be held later this month.
Sources have confirmed that Mr Kejriwal, who heads the Aam Aadmi Party launched a few months ago, is listed only as one of many speakers on the panels that will discuss different topics at the two-day event; Mr Kejriwal will be part of a panel on public policy. He is not slated to be a keynote speaker replacing Mr Modi, whose name was first among speakers listed on the event website before the organisers dropped him.
Mr Kejriwal confirmed to NDTV this morning that he had accepted Wharton's invitation to speak, adding, "'But that has absolutely nothing to do with Modi."
Organisers of the Wharton India Economic Forum said they had made no announcement yet on who would replace Mr Modi, whose ouster has also made one of the key sponsors of the event, the Gujarat-based Adani group, withdraw its funding, a gesture that apparently shows loyalty to Mr Modi.
(Read)
Sources have told NDTV that the organisers are talking to a host of Indian politicians to participate at the event. Before the Modi controversy, they said, they had even approached Congress vice-president Rahul Gandhi, through his close aide Kanishka Singh who is a Wharton alumnus, to speak at the event. Among other Congress leaders who have been approached are junior minister for Human Resource Development Shashi Tharoor and even Delhi Chief Minister Sheila Dikshit.
It was in Delhi that word gained ground about Mr Kejriwal replacing Mr Modi as news came in yesterday that the college management and some alumni had prevailed upon the student organisers of the event at Wharton to cancel the Gujarat Chief Minister's speech. Interestingly, Mr Kejriwal will also begin an indefinite fast to protest against rising electricity prices in Delhi on March 23, the day that he is scheduled to participate at the Wharton event via video conferencing.
(Read: Arvind Kejriwal to fast starting March 23 against 'inflated' power bills)
The student organisers said they had invited Mr Modi because he had scripted Gujarat's impressive growth story. Some professors and members of the alumni reportedly argued the Gujarat communal riots of 2002 under Mr Modi's watch could not be ignored. A signature campaign against inviting Mr Modi was launched too and the organisers had to withdraw their invitation to him.