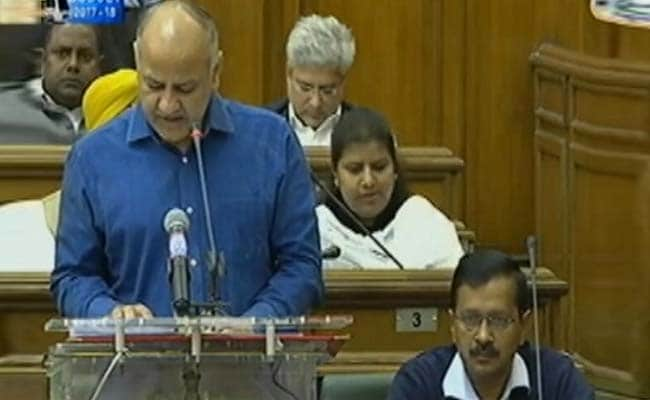 NEW DELHI:
Keeping its focus sharply on the social sector, the Aam Aadmi Party government on Wednesday proposed to spend one-fourth of Delhi's 48,000 crore budget on education over the next year, promising more classrooms, better food in schools and tablets for teachers to track the performance of their students.
The budget - that come just ahead of municipal corporation elections in the national capital that has been controlled by the BJP for 15 years - did not hike any taxes either, though the government had slipped on last year's revenue collection of 24,000 crore rupees.
Delhi's economy is estimated to have slowed down to 8.26 percent in this year against 8.82 per cent in the last fiscal. But Deputy Chief Minister Manish Sisodia used the drop in growth rate to hit out at Prime Minister Narendra Modi.
Mr Sisodia attributed the slower growth and shortfall in revenue collections to the NDA government's decision to junk 86 per cent of the country's currency. And then drove home the point in a tweet soon after: "Delhi GDP has dropped due to #Demonetisation".
The minister also vowed to continue spending on advertisements insisting that the government's work "needs to reach people", a point on which the AAP government has been under attack from the BJP.
The government, however, proposed to reduce tax on aviation turbine fuel from 25 percent to 1 percent for aircrafts flying to the Northeast and the tax on sanitary napkins, from 12.5 percent to 5 percent its Women's Day gift.
But the big distinction that sets Delhi's budget apart from other states, he declared, was that this budget was an Outcome Budget that does not only emphasise financial outlays. "This outcome budget will constitute a contract between Delhi government - and, therefore, each department official - and the people of Delhi." Mr Sisodia, who is also the finance minister, said.
"When we allocate money for skywalk, merely constructing it would not be counted as success. Its success would depend on how many people actually use it. That in a nutshell explains the objective of the outcome component," he said.
The health sector, that has also been high on the government's priority, has also received a hike. And there are plans to expand the transport network, particularly public transport. The government has also proposed to buy over 700 buses, down from last year's target of 1,000 buses.