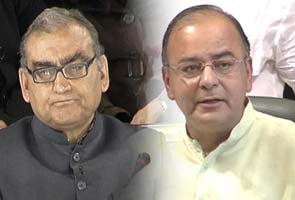 New Delhi:
After Bharatiya Janata Party (BJP) leader Arun Jaitley asked Markandey Katju to quit, the Press Council Chairman today shot back, saying it is Mr Jaitley who should resign as "he is unfit for politics."
In an article on the BJP website, Mr Jaitley had written that Justice Katju's attacks on non-Congress state governments seem like "a thanksgiving to those who gave him a post-retirement job."
"His utterances, both during his tenure as a Judge and thereafter, are clearly outlandish. Dignified comment is alien to him. His attacks on non-Congress governments whether in West Bengal, Bihar or Gujarat seem more in the nature of thanks-giving to those who provided him with a post retirement job," Mr Jaitley wrote in an article titled, "Why Justice Markandey Katju must quit as the Chairman of the Press Council of India."
Read article
Reacting to Mr Jaitley's statement, Justice Katju told NDTV today that the BJP leader "has presented half-truths and has gone down to a very low level in personal attacks," adding, "I have criticised Maharashtra Chief Minister when the Facebook girl was arrested. I issued a statement when the Himachal Chief Minister threatened a media person, saying his camera will be broken. So I have criticised Congress governments also."
In his article, Mr Jaitley had also said that Justice Katju's article in a newspaper against Gujarat Chief Minister Narendra Modi read more like a "personal tirade".
"Justice Markandey Katju has failed every test on which a Judge whether sitting or retired could be judged. The choice of his subjects and targets is motivated by his political preferences," he had written.
Demanding Mr Katju's resignation, Mr Jaitley said, "He appears to be more Congress than the Congress party," adding the Press Council chief should "either quit before actively participating in politics or be sacked."
The BJP has backed Mr Jaitley's demand with party spokesperson Ravishankar Prasad saying, "I regret to say that though we have the highest regard for a retired judge like justice Markandeya Katju but while continuing as the Chairman of the Press Council he had repeatedly given indication as Shri Arun Jaitley has indicated that he is seeking to target non-Congress governments, be in Bihar,or Shri Narendra Modi in Gujarat or sometimes in Bengal."
Narendra Modi, who was targeted by Mr Katju in his article, which the press council chairman says is "based on facts," today tweeted,"Justice Katju looks at Gujarat with a jaundiced eye. Jaitley
ji
's insightful article demolishing lies spread about Gujarat."