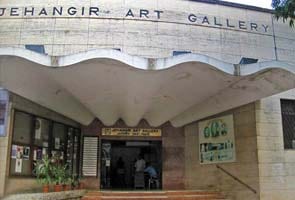 Mumbai:
An Indian artist said on Wednesday she feared for her safety after Hindu extremists forced her to remove two paintings from a Mumbai exhibition because they showed scantily clad goddesses.
Eleena Banik's paintings, displayed at the city's well-established Jehangir Art Gallery, included the Hindu goddess Kali without the garland of skulls that normally covers her breasts.
Another depicted a goddess-like woman with strawberries placed on her body like fig leaves, which Banik said she created in protest at the fatal gang rape of a medical student in New Delhi in December that shocked India.
"I wanted to express that the goddess is there in all women, so why do you rape her?" Banik, 41, who has exibited her works throughout India as well as in London, told AFP.
She said a couple of angry Hindus had approached her and objected to the lack of clothing in the two paintings and said a woman "can't be compared with a goddess".
After receiving complaints, Mumbai police and the gallery insisted Banik remove the paintings from public view, said the artist, who is a Hindu and insists Kali appears naked in mythology.
"It's insulting for any artist," she said of being obliged to remove her works. "I express my freedom of expression through my paintings."
Since her exhibition closed Monday, the artist from eastern India said she had received threats over the phone, including one death threat, and had been given police protection.
"I don't know if it's safe for me to go out," she said.
Among the complainants was Varsha Thakar of the Hindu Janajagruti Samiti group (meaning "forum for Hindu public awakening").
"We are not against artistic freedom but would like to know what connection can be drawn between the gang-rape victim and a goddess," Thakar told the Times of India newspaper.
The Jehangir gallery director, K.G. Menon, confirmed that Banik had been asked to remove works but would not go into detail.
"That matter is over and I don't want to talk about it," she said.
The incident echoes the controversy over paintings of nude deities by India's most famous modern artist, the late M.F. Husain, who fled the country in 2006 after death threats from Hindu extremists.