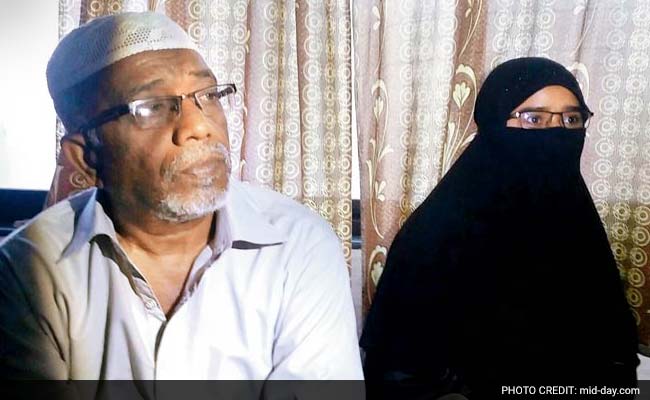 Mumbai:
The family of Muddabir Mushtaq Shaikh, it appears, was aware of his involvement with the Islamic State of Iraq and Syria (ISIS). Shaikh, 34, who was arrested from his Mumbra home on Friday at around 3 am, officers from the Maharashtra ATS and the National Investigation Agency (NIA) say, would often tell his family that he would be "soon heading to Syria".
Shaikh's wife Ujma, who is in her earlier 30s and holds a BCom degree, and her father Ahmed Miyan, a real-estate agent, had often counselled Shaikh against following the group's extremist ideologies. "I would tell him that we had a family and two daughters to take care of, but he would neglect me saying he was part of an Islamic group that was working for a good cause," says Ujma. Ujma has moved out of her Reshma Apartment residence in Amrut Nagar where she lived with Shaikh and two daughters, and is put up with a relative.
Shaikh has been accused of being primary recruiter for ISIS in India. He was produced at the special NIA court in Mumbai on Friday for transit remand. He will be produced at Patiala court on Monday. An IT professional, Shaikh was booked under Section 125 (waging war against any Asiatic power in alliance with the government) along with various sections of the Unlawful Activities (Prevention) Act.
Ujma said her husband had been active with the ISIS for the past few months. "But, I am aware that for the last one month, he was not very active. I told this to the investigating officers," she says, adding that the officers told her they were only taking her husband for interrogation.
The family, however, wasn't the only ones to know of Shaikh's ISIS sympathies.
Sources from the investigation agencies said that Shaikh would also try to radicalise people at the local Amrut Nagar mosque, where he would go for prayers five times a day. "This we found out while interrogating Shaikh. He'd tell the others that ISIS's ideology is the proper ideology and everyone should follow their way. Fortunately, no one entertained him," said an officer.
Yet, when Sunday mid-day visited the mosque that Shaikh frequented, we heard a different story. A maulana present there said, "Shaikh was regular, but was a very quiet person. We were shocked to hear of his arrest. We thought he was a responsible man who took take care of his family. While we didn't speak to him much, we'd often see him during prayers."
Investigation agencies, which have kept an eye on Shaikh for the last six months, say he had been active with the group for three years. "Had anybody from the family, his wife or father-in-law or those he'd meet at the mosque, informed us about Shaikh's approach towards the extremist group, we could have been able to de-radicalize him by getting him to meet Muslim scholars," added the officer who interrogated Shaikh for over three hours in the kitchen of his Mumbra residence.
Living off ISIS money?
Sources claim that Shaikh would directly tell ISIS head Abu Bakr Al-Baghdadi about his progress. "He was active on social networking sites and would use the Internet to make calls. We have gathered evidence, including chat conversations, phone records and a hard disk, which prove his direct involvement with the group. We have also found sexual content, which we believe might have initially been used to lure him into working for the group," added the officer.
The officer added that till 18 months ago, Shaikh was working with a private firm in Goregoan, where he claims he was paid a monthly salary of Rs 50,000. He left for personal reasons.
"He said he had savings of R30 lakh to take care of his family and also some land, from which he was earning cash," added the officers who believe that Shaikh's real cash source was ISIS, who was funding him since he was their recruiter in India.