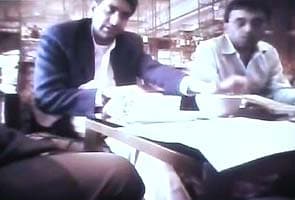 New Delhi:
The Delhi Police's Crime Branch today issued notice to Subhash Chandra, owner of Zee TV, in connection with a sting operation by steel tycoon and Congress MP Naveen Jindal who accused two journalists of Zee News of trying to extort an advertising deal worth Rs 100 crore from him.
The two journalists, channel's Group Editor Sudhir Chaudhary and Business head Samir Ahluwalia, were arrested yesterday. Zee News has called the arrest as an attempt by the party-led government to gag the media and cover up the coal scam.
"After 65 years of independence, the present Congress-led government is pushing the media to not speak the truth and gag it. It is practically the Emergency revisited in India on November 27, 2012, a day that will also be known as a black day in Indian history," the company said in a statement.
(Read statement)
"The arrests have been made to sensationalise the issue and lend a cover to the coal scam and in particular favour Naveen Jindal, Congress MP, and his company Jindal Steel and Power Limited (JSPL)," the statement said.
Alok Agarwal, the Chief Executive Officer of Zee News, addressed a press conference hours later where he said, "Zee News and other group companies has published 268 stories on Mr Naveen Jindal in the past. We raised key issues relating to coal block allocations. Instead on answering queries of Zee News team, Naveen Jindal decided to file FIR. This was an act of political pressure. The police are being forced to act on the matter under pressure from Naveen Jindal and his associates."
Mr Jindal's company has, however, called Zee News' allegations as "laughable". "This is laughable. There is no connection between legal and judicial process and coal allocations. There is a need to weed out bad apples like these as they give bad name to all. They (Zee) cannot take shelter under this say umbrella called media," said Rajeev Bhadauria, Group HR, Jindal Steel and Power.
Mr Chaudhary, who heads Zee News, and Mr Ahluwalia, head of Zee Business, were arrested on Tuesday evening by the Delhi police's crime branch in an extortion case registered about 45 days ago on a complaint by JSPL. They will be produced in a city court today.
The two journalists face charges of extortion and criminal conspiracy. Punishment for the first is a maximum imprisonment of three years or fine or both. For criminal conspiracy, it's up to six months or fine or both.
Mr Jindal has alleged that Zee News tried to extort Rs 100 crore in exchange for not airing unfavourable stories linking him and his group to the coal blocks allocation scam, which rocked the UPA government earlier this year.
"JSPL is using the state machinery, controlled by the Congress both at the Centre and in Delhi, to muzzle voices of dissent and to interfere with the legitimate rights of the media in an attempt to divert attention from its illegalities and misdeeds, which the Zee News editors had sought to highlight in public interest," the Zee statement said.
On October 25, Mr Jindal had released a video-recording of meetings with executives of Zee TV and claimed this to be proof that they were trying to extort money from him. He said the news channel told his company's executives that if they did not spend Rs 100 crore on advertising, the channel would run negative stories on allocation of coal fields to his firm.
Mr Jindal said the "extortion attempt" was caught on a hidden camera; he released CDs of this footage to reporters. The 'reverse sting' was carried out between September 13 and 19 over four meetings in different locations in Delhi.