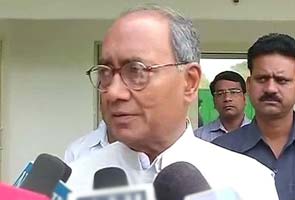 New Delhi:
Congress General Secretary Digivijaya Singh today questioned the Supreme Court and the Central Administrative Tribunal over remarks, which according to Mr Singh belittle India's institutions.
Mr Singh tweeted today, "Hon Supreme Court calls CBI a Parrot in a Cage, CAT calls Intelligence Bureau a Chicken. Are we not belittling our Institutions?"
The tweet drew immediate response from the opposition party, the BJP, with spokesperson Ravishankar Prasad saying, "I think it is important for him to look inwards for himself and his party, his leader and the PM. If the morale of the CBI has been downgraded it is only because of the rank abuse of the CBI by his government."
The Supreme Court last week had called the CBI "a caged parrot" that "speaks in its master's voice" after the investigating agency admitted in an affidavit that Ashwani Kumar, who quit as the Law Minister on Friday, and senior officials of the Prime Minister's Office and the coal ministry had made certain changes in the report on the allocation of coal blocks.
During the hearing, the Supreme Court had asked the Centre whether it was contemplating a law to make the working of the CBI independent and insulate it from extraneous intrusion and interferences.
"Instead of blaming the highest judiciary, it is important for Digvijaya Singh to learn and understand as to why there are series of scams one after another in his government," Mr Prasad said today.
The Congress, meanwhile, seemed to distance itself from Mr Singh's comments, saying the top court's observations "should be taken seriously."
"I have not heard or seen what he has said. Digvijay Singh is a senior leader. Since he is such a big leader, if he has said something he must have said it with due deliberation... Only he can explain what he has said," party spokesperson Meem Afzal told reporters.
Smeared by scandal, two senior ministers - Law Minister
Ashwani Kumar
and Railway Minister
Pawan Bansal
- resigned three days ago. While Mr Kumar vetted the CBI's probe report on the coal scam, Mr Bansal faces allegations of corruption with his nephew arrested for accepting bribe to organise a plum posting for a senior official in the Railways. The CBI is investigating the bribery scam, and may question Mr Bansal this week.