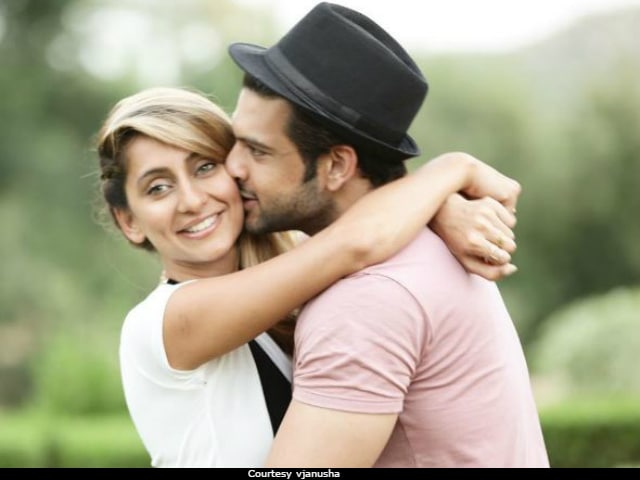 Highlights
'This is hypocrisy,' said Karan Kundra
'The world is in constant conspiracy against the brave,' Rochelle added
Now, Anushka's Instagram is flooded with encouraging comments
New Delhi:
TV star Karan Kundra stood up to the haters of his girlfriend Anushka Dandekar,
who was subjected to slut-shaming
after she posted a photograph of herself in a crop top and shorts on Instagram. Anusha's caption reveals that the photo was to celebrate her body and the sense of liberation. After a flurry of rude messages and comments on her post, Karan slammed one particular follower in angry words and added: "Girls should have the freedom of wearing what they want, where they want, when they want, whatever time of the day. Instead of changing people's mentality in our society, you are telling a girl to curb how she should live. This is the hypocrisy of your society and you should be ashamed of yourself."
Anusha had shared the bold photograph with a strong message for body-shamers: "My body, my choice, my life, my karma... Free yourself from people's judgement, feel liberated, live with a kind heart and love yourself, or change till you do... For when you truly love yourself, you can truly love someone other than you."
She also thanked Karan
for encouraging her to stand up for her views.
Meanwhile, model and TV personality Rochelle Rao also jumped into the debate and addressed a note to Anusha: "The world is in constant conspiracy against the brave (Anusha). It's the age old struggle; the roar of the crowd on one side, and the voice of your conscience on the other - Douglas MacArthur. So, keep listening to your conscience because it's telling you what's right. The world only accepts what doesn't threaten its peaceful sleepy state. You however my dear, are a "kindred spirit" all set to awake the sleeping and the dead to a life worth living."
Anushka's Instagram feed is currently being flooded with encouraging comments in support of the star couple - "Anusha always inspires girl empowerment. But guys like you are just another blessing for this step" - is the general sentiment being reflected.
Last year, Karan Kundra also
featured in headlines after he shut down a female follower
who trolled Anusha with insulting comments. Karan Kundra, 32, and VJ Anusha, 35, confirmed they are dating on Valentine's Day last year. They are currently co-hosting TV show
MTV Love School
, which is in its second season.