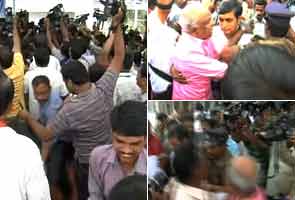 Hyderabad:
Telangana Rashtra Samiti (TRS) MLAs created ruckus in the Assembly today as they manhandled an MLA of the Loksatta party, Jayaprakash Narayan, allegedly for not supporting statehood for Telangana. This happened at the media point in the Assembly in full media glare.
Earlier, TRS and TDP MLAs disrupted the Governor's speech on the opening day of the Budget Session. They tried to tear his speech copy and climbed on the podium.
More than two lakh government employees of Telangana have boycotted work from today as part of their non-cooperation movement launched to mount pressure on the state and Central governments to grant statehood to Telangana.
Pro-Telangana parties, like TRS, have asked them not to cooperate with the rest of Andhra Pradesh from today and ensure no work takes place in the region.
``They would go to the office, sign in the register but they would not work. They would absolutely declare non-cooperation. They will not work for this government which is against the interest of the people of Telangana,'' said TRS leader, KT Rama Rao.
Sources say some of the commandments issued to the government employees include not paying electricity and water bills, not paying property tax and travelling in buses without buying a ticket. Some say advocates have been asked not to argue their cases before judges from the other two regions. At a later stage, the plan is to even ask sanitary workers to stop lifting garbage, making Hyderabad and other towns in Telangana stink.
But the state government is prepared and has its own plan in place. It says it will outsource staff to tackle the 'boycott movement'.
``They should do this for a day or two, but not for long as that will cause inconvenience to the people who are committed to the cause of Telangana,'' said Andhra Pradesh Textiles Minister, P Shanker Rao.