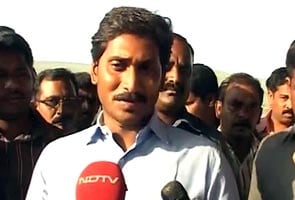 Hyderabad:
The Andhra Pradesh High Court has ordered the Central Bureau of Investigation (CBI) to conduct an in-depth inquiry into the alleged disproportionate assets of YSR Congress chief Jagan Mohan Reddy after registering a criminal case.
A division bench comprising Chief Justice Nissar Ahmad Kakru and Justice Vilas Afzalpurkar directed the probe agency to take the investigation into the case to its logical end.
State handlooms and textile minister P Shankar Rao had written a letter and three members of the Telugu Desam Party had separately filed a petition in the court asking for a CBI inquiry into the companies that had invested in Jagan Mohan Reddy's businesses. They alleged that these companies sought favours in the form of land allotments and mining leases from the then government led by Jagan's father Y S Rajasekhara Reddy.
The bench set aside the arguments of Jagan's lawyers that the petitioner has political vendetta against him and said the contention of the petitioner needs to be appreciated.
Shankar Rao alleged Jagan Reddy's income rose from Rs. 11 lakhs in 2004 to Rs.43,000 crore by the time of his father's death.
Last month, the Court had asked the CBI to conduct a preliminary inquiry into whether Mr Reddy's business prospered during the years when his famous father, YSR Reddy, was Chief Minister of Andhra Pradesh. YSR, as he was known, died in a helicopter crash in 2009.
On July 19, Mr Reddy, one of India's richest politicians, had asked the Supreme Court to stop the CBI inquiry. He had accused his former party, the Congress, of using the court as "a playing ground for settling political rivalry." The apex court, however, had refused to stop the probe.
The case against Jagan Mohan has been filed by Shankar Rao, a minister in the Congress government in Andhra Pradesh. Several other leaders from the Telugu Desam Party (TDP) have supported Mr Rao's petition. Jagan Mohan told the Supreme Court today that the Congress and the TDP are worried about his growing political popularity.
YSR's son has gone to considerable lengths to prove his appeal to voters. Upset over not being made Chief Minister after his father died, Jagan quit the Congress in November, 2010 and launched the YSR Congress in March this year. He won his election to the Lok Sabha from his father's seat in Kadapa with a massive margin. And he regularly conducts highly-publicised tours to meet families who say they are in mourning for YSR.
In April this year, Jagan declared assets worth Rs 365 crores.
(
With PTI Inputs
)