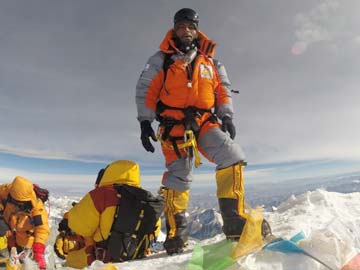 17-year-old Sadhanapally Anand Kumar from Telangana is the first Dalit to climb the world's highest peak - Mount Everest. He is a Class XII student in a government-run social welfare hostel in Telangana's Khammam district.
He speaks to NDTV.com:
Q:
How and when did you first decide to climb the Everest? Who inspired you?
Ans:
It all started with a five-day course at Bhongir Rock Climbing School (Nalgonda District, Telangana). We were trained by Shekhar Babu sir and Parmesh Kumar sir. I saw videos of Shekhar Babu sir at the summit and I think that's what inspired me. I too wanted to scale the world's highest peak. Of course, before this course, I'd never thought that I would one day climb the Everest. It wasn't something I'd ever thought of doing.
Q:
How did you train for the trek?
Ans:
I wanted to fulfill the dream of our 'Secretary Sir' (Dr R S Praveen Kumar). My trainers - Shekhar Babu sir and Parmesh Kumar sir - worked very hard and kept encouraging me. I was part of a group of 110 children that was sent for a basic five-day rock-climbing course to Rock Climbing school in Bhongir. During this course, my trainers felt I was strong and able and they decided to train me further - with the aim of scaling the Everest. The training lasted eight months - we began in September 2013. This training usually takes two years but we were able to complete it in eight months. After the five-day course - they chose 20 children. We were then sent for the Himalayan Mountaineering Course where we learnt about glaciers and ice-climbing. This training lasted 20 days. From this group, they then selected nine of us and we were trained for two months. After this training we were taken for 'winter training' to Ladakh... they wanted to see if we were fit enough to weather the cold and if we were mentally tough.
Q:
Tell us something about your childhood - the challenges, your family...
Ans:
My father Mr Kondala Rao works at a cycle shop. My mother, Ms Laxmi, is an agricultural labourer. We are extremely poor. Sometimes we didn't have food to eat - we would boil dried chillies and onion, add some salt and just drink that. My favourite food is mutton curry but it is too expensive. My father would borrow money and bring us some chicken (mutton we couldn't afford at all). I have a younger brother, he is in Class X.
We live in a very small hut which had holes in the roof. So in rainy season, there were nights I would wake up to see my parents standing, all drenched. Because our hut was so small their side would always get flooded and they had no choice but to stand... there was not enough space. I used to feel terrible and would often weep. Our corner would be dry so they'd let us sleep while they just stood through the night.
Q:
What did you say to your parents and friends before leaving for Mount Everest?
Ans:
I asked them to be confident and to have faith in me. They were excited and wished me luck.
Q:
You carried photographs of Dr B R Ambedkar and the national flag? Tell us more about this.
Ans:
I am very proud to be an Indian and wanted to unfurl the national flag, Telangana's flag and my school flag. Dr B R Ambedkar's photos of course for his work... they are of huge sentimental value.
Q:
What were the three most challenging moments during your climb?
Ans:
It is a death zone - the three toughest things were braving the cold, the climb itself and eating packaged food.
Q:
What was your diet?
Ans:
I had muesli, milk and chocolate.
Q:
You saw bodies in the last leg of your climb. Did that scare you?
Ans:
I came across something that sort of looked like a body but I wasn't sure. So I asked the Sherpa and he confirmed my worst fears. I was shocked and scared. But I remembered my promise to my parents and 'Secretary Sir' (IPS Officer Dr R S Praveen Kumar is Secretary, Social Welfare Residential Educational Institutions Society). I thought of my school's ten commandments (below) and that gave me strength:
I am not inferior to anyone
I shall be the leader wherever I am
I shall do what I love and be different
I shall always think big and aim high
I shall be honest to hardworking and punctual
I shall never blame others for my failures
I shall never beg and cheat
I shall repay what I borrow
I shall never fear the unknown
I shall never give up
Q:
What were your first thoughts when you reached the top? And did you unfurl a flag of Telangana and the national flag?
Ans:
I remembered 'Secretary Sir', I had fulfilled his dream. I thought of my parents and family and of course my school. I unfurled the national flag, the Telangana flag and my school's flag - it was a very, very proud moment. My mother was tears when I phoned her after our climb down.
Q:
What are your future plans?
Ans:
I'm a Science student and I want to become an IPS officer. 'Secretary Sir' - Dr R S Praveen Kumar is my role model. My favourite subject is English.
Q:
You met the PM after your climb - what was that like?
Ans:
We congratulated each other. He said that we had made every Indian very proud. He asked about my family, our climb and the training. He gave me a certificate, a shawl and a gift. I will open it only when I meet 'Secretary Sir'. The PM also said that if we ever needed any help, we could contact him.
Q:
Would you like to give any message to our readers?
Ans:
Everyone should be confident and just keep working towards their aim. I feel a person who is focussed and determined can face just about anything.