Highlights
Amit Shah arrives in Delhi, greeted by BJP workers for Rajya Sabha debut
Will win 150 assembly seats in Gujarat elections, Amit Shah said
Opposition will watch keenly as Amit Shah steps into Parliament
New Delhi:
BJP chief Amit Shah arrived in Delhi on Wednesday night to a grand welcome at the airport by union ministers and party workers. It's a double celebration for the BJP as Mr Shah completes three years as party chief on the same day as he was elected to the Rajya Sabha for his debut in Parliament.
The 52-year-old leader resigned on Wednesday as a legislator in Gujarat and at a party felicitation in Gandhinagar said it was a special day for him as he began a new innings representing his state in the Upper House of Parliament. "I have been an MLA for the last 20 years... I tried to work to the best of my potential," the BJP chief said, adding in fulsome praise for Prime Minister Narendra Modi, "It is our pride that Narendrabhai is ours."
On Tuesday night Amit Shah had sat huddled with MLAs from his party as counting of votes in the Rajya Sabha election was delayed by over six hours because the Congress had sought that two rebel legislators be disqualified. The Election Commission accepted the petition, an order that helped the
Congress' Ahmed Patel win a seat
. Amit Shah and the BJP's Smriti Irani won the other two in results announced after 3 am on Wednesday.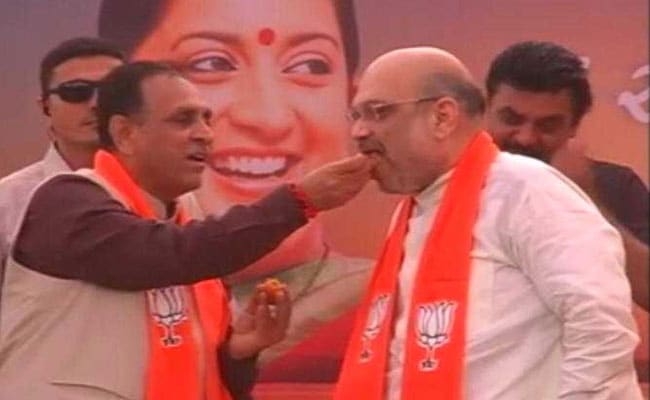 A
hmed Patel snatched victory by the most slender margin
in an election that had turned in a huge battle of prestige between the Congress and the BJP, which tried its best to prevent the Congress leader's re-election to the Rajya Sabha.
The contest pitched two master strategists Amit Shah and Ahmed Patel in an intense face-off, but the jolt of Mr Patel pulling off a win is not expected to slow down the Modi-Shah juggernaut in its take-no-prisoners, win-every-election strategy. The difficulty with which Mr Patel, a seasoned Gujarat politician, won his seat amid defections and cross-voting, exposed the weakness of rival Congress months before assembly elections in Gujarat, in which Amit Shah has pledged to win a record 150 of the state's 180 seats.
At the party meeting on Wednesday he said, "If we win 150 assembly seats in the December elections, then all three Rajya Sabha seats will come to us next time."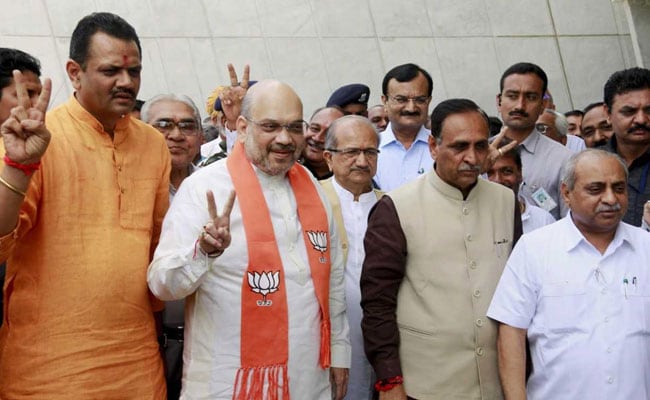 Since his nomination by the BJP for a Rajya Sabha seat there has been intense speculation about a cabinet berth for Mr Shah in the Narendra Modi government. The BJP chief said a few days ago that he would not be a minister and the party's Prabhat Jha reiterated that, saying Amit Shah "won't join the ministry."
Bhupinder Yadav, the BJP's central leader in charge of Gujarat said, "Amit Shah is party President and has a lot to contribute in that position."
"Congratulations to Shri @AmitShah on completing 3 successful years as @BJP4India President. During the Presidency of Shri @AmitShah, @BJP4India has expanded its base in several areas & diligently worked towards nation building," Prime Minister Narendra Modi has tweeted.
Under Amit Shah, the BJP has indeed seen phenomenal success. Through big election wins in some states, all of them credited to Mr Shah's canny planning, and strategic partnerships in others, the BJP and the NDA now has governments in 18 of India's 29 states.
Only this year, the party swept crucial Uttar Pradesh winning more than 300 of the state's 403 states and also neighbouring Uttarakhand. In states like Goa and Manipur, that it did not manage to get a majority in, the BJP moved quickly to ally with regional parties.
And in Bihar, where it lost the last assembly elections, it is back in the government as Chief Minister Nitish Kumar's new partner. Two days ago, the BJP made its debut in the assembly of Left-dominated Tripura, acquiring the entire Trinamool Congress team. The party's north east plan is playing to script, after setting up or participating in governments in Assam, Arunachal Pradesh and Nagaland.
In states where the BJP has had little political presence, like West Bengal, Kerala and Odisha, Amit Shah is building cadres and interacting with workers at the booth level as he pledges to better the BJP's powerful performance of 2014, in the next national election of 2019, when PM Modi will seek a second term.
"I'm giving my example. I was a booth worker. I began by plastering posters. Without any political background, I've been made the chief of the world's biggest party," Amit Shah had told party workers in Haryana last week.
The opposition will watch keenly as Mr Shah steps into Parliament. "It will be interesting to see how he performs in Parliament because here you are assessed as a speaker and not as party no 1," said Congress MP Vivek Tankha. "Shah is extremely aggressive and can go to any level and for us as a party it's a new dimension the way he fought this (Rajya Sabha) election," he said.