Highlights
BJP's 312 newly-elected legislators will elect their leader today
Manoj Sinha is emerging as the front-runner for chief minister post
PM Modi and Amit Shah want someone who will be acceptable to all: Sources
Lucknow:
Hours before a meeting of the BJP's 312 newly-elected legislators In Uttar Pradesh, the party's ideological mentor Rashtriya Swayamsevak Sangh or RSS is in talks with party chief Amit Shah to discuss who should be the state's next Chief minister, sources said today. The RSS wants a say in the crucial decision and has sought some clarifications, sources said, without detailing what they were.
The development came after Union Minister Manoj Sinha for almost six days remained the BJP's top choice, sources said. Mr Sinha, who ruled himself out of the race yesterday, maintained he had not staked claim but was seen praying at prominent temples in Varanasi last night and this morning. "The BJP legislature party and the parliamentary board decides the Chief Minister. I'm not in the race," he told NDTV.
Union Minister Venkaiah Naidu also said a decision would only be announced after a meeting of the party's UP legislators at 4 pm. "All names in media reports are speculation," he said. Mr Naidu is one of the observers from the party's central unit, along with national general secretary Bhupendra Yadav, who will attend the meeting.
This morning, the BJP's UP chief
Keshav Prasad Maurya
, who too is seen as a likely candidate for chief minister, met Prime Minister Narendra Modi and party chief Amit Shah. Mr Shah yesterday had appeared to rule out that Mr Maurya could be Chief Minister when he said, "The party will endorse its state unit president's choice". It will be difficult for Mr Maurya to choose himself.
Outside the party office in Lucknow, supporters of Mr Maurya and BJP lawmaker Yogi Adityanath, another probable, raised slogans in their support.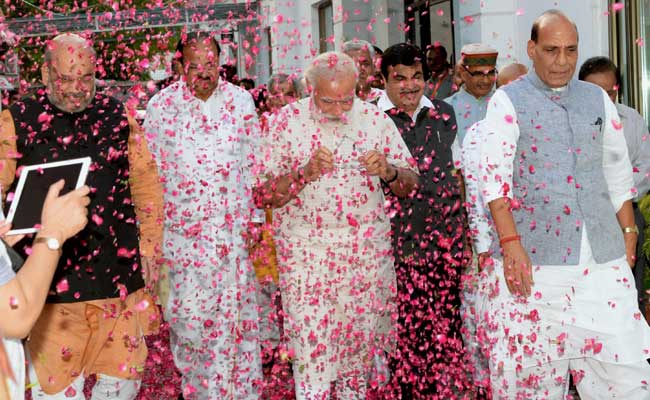 Picking the right person for UP's top post
is crucial for PM Modi's bid to win a second term at the Centre in 2019. PM Modi and Amit Shah, sources said, want someone who will be acceptable to all the different social groups and communities that have voted for the BJP, so that the party can retain their loyalty. They also want a proven administrator who can tackle UP's infamous law and order problem and further PM Modi's development agenda in the country' most populous state.
A grand show of strength is planned at the oath ceremony on Sunday with PM Modi, Mr Shah, many union minsters and BJP chief ministers attending. The event will be held at the sprawling Smriti Upvan complex near the Ambedkar memorial in Lucknow.
Save that he is from the general caste and not a backward caste or Dalit leader - groups that joined the BJP's support base in this election - Manoj Sinha checks all other boxes. An MTech from Benares Hindu University, he is recognised for a strong ability to connect with masses, especially rural. He belongs to the Bhumihar Brahmin caste and is considered a firm administrator.=
Mr Maurya is a leader of the Most Backward Castes or MBCs who played an important role in the BJP's win. But the party worries about the many cases he faces.
It's been a week since election results in five states were announced and the BJP's delay in naming a chief minister for UP is in deep contrast with the swiftness with which it acted in Goa and Manipur, states where it is not even the largest party, but has managed to install its chief ministers. In Goa, Chief Minister
Manohar Parrikar
has already won a trust vote.