The BJP moved with tyre-burning speed to clinch numbers and power in Goa and Manipur, where the verdict wasn't purely in its favour. One Chief Minister has already won a trust vote, another will get there soon. But in Uttar Pradesh, where the party uprooted all opposition in a landslide victory, the BJP is on a go-slow. It is yet to name a Chief Minister.
Five days after its sweetest win, the BJP said today that its 312 MLAs in Uttar Pradesh will meet on Saturday, March 18, at 5 pm and the chief minister will be finalised. The newly elected MLAs will effectively endorse the name of the person Prime Minister Narendra Modi and party president Amit Shah will pick for UP's top post.
The decision is crucial and difficult. Winning UP was phase one and a part of preparation for phase two - the 2019 national election. While the party's traditional support base, the general caste voters supported it as always, it also won new backers in the Most Backward Castes and the non-Yadav Other Backward Castes and non-Jatav Dalits. These social groups form 55 to 60 per cent of UP's voters and the BJP pulled away their support while the Bahujan Samaj Party of Mayawati and Akhilesh Yadav's Samajwadi Party were content consolidating their core support - Jatav Dalits for the BSP and Yadavs for the SP - while they fought over the Muslim vote.
The party did not project a presumptive chief minister in the face of formidable opponents like Mayawati and Akhilesh Yadav, both clear contenders for the top post, and still won handsomely. But after the win, comes the tough challenge of meeting the aspirations of those who voted for it. The first signal they await is the BJP's choice of chief minister.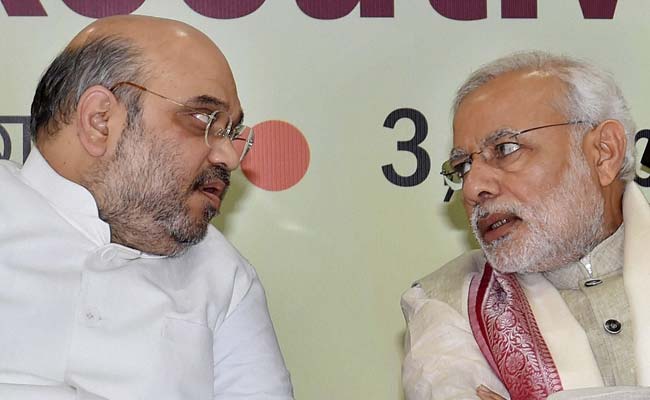 The BJP has poor bench strength in UP. It has won 325 assembly seats along with its allies, yet all the probables for chief minister are drawn from its pool of parliamentarians. That is because it fielded all its biggest leaders from the state in the national election three years ago. So the names doing the rounds for UP chief minister are union Home Minister Rajnath Singh, Telecom Minister Manoj Sinha, who is also junior minster for Railways, and Keshav Maurya, the BJP's Uttar Pradesh chief and Lok Sabha MP.
Rajnath Singh is a big name in the BJP. He has been party president twice - he led the BJP when the party projected Narendra Modi as its face for the 2014 national election and won. He was also party president when the party projected LK Advani and lost in 2009. He has been UP chief minister, state president and a minister in the Atal Bihari Vajpayee government at the Centre.
Rajnath Singh is seen to possess the administrative skill and clean image that the party needs for the UP top job. But Rajnath Singh, twice, last year declined PM Modi and Amit Shah's offer to shift back to UP if the BJP won. He reportedly said no as UP seemed like a fortress that couldn't be won.
A day before election results were announced last weekend, the RSS and Amit Shah are said to have discussed Rajnath Singh's suitability for the job, but there is no clarity yet. The biggest factor in this decision will be how his place at the Centre will be filled. A shift to Lucknow may force a major shuffle in the cabinet. PM Modi will have to hunt for a home minister, apart from a defence minister after Manohar Parrikar left to be Goa chief minister. Finance Minister Arun Jaitley has been given makeshift charge of Defence.
Rajnath Singh is also a senior leader, number two at the Centre and close to the RSS. The Prime Minister is a Member of Parliament from UP. If Rajnath Singh takes over as chief minister, his proximity to the RSS could propel him to emerge as a major power centre in the BJP. Will the BJP's top duo allow that?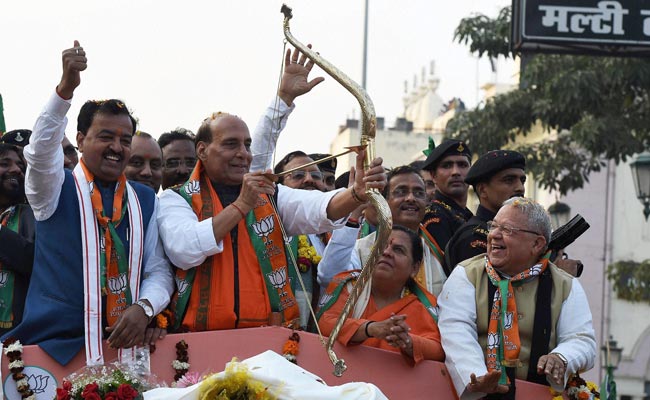 Personally, Rajnath Singh may now fancy a stint in Lucknow to emerge out of PM Modi's shadow, where he has lived since May 2014 as home minister. He will get an opportunity to steer the state towards better times and if he manages a repeat of the 2014 elections, when the BJP won 71 of 80 seats, he will be positioned well. Sources in the BJP say Rajnath Singh, who has always been very discreet, may have Prime Ministerial ambitions.
But there negatives too that go with the job for Mr Singh. His son Pankaj Singh is now a legislator from Noida. For the last two elections, he had refused to let the BJP field his son as he didn't want him in active electoral politics under his guard. If he becomes Chief Minister, his son's chances of becoming a minister will be nil.
The BJP's biggest compulsion in deciding who will be chief minister is to strike the right caste balance between Dalits-Backwards and Most Backward Castes (MBC) and general castes and make everyone happy. Keshav Maurya belongs to MBC Maurya caste and was poor as a child like PM Modi. He is an RSS man and was an active member of the BJP's sibling in the Sangh Parivar - the Vishwa Hindu Parishad. Amit Shah had handpicked him last year to be UP chief and PM Modi is said to back him.
Amid all the suspense, Amit Shah on Thursday dropped a bombshell saying the "party will endorse its state unit president's choice". At the BJP headquarters in Lucknow, Mr Maurya's supporters have been waiting for his name to be announced, but Amit Shah's words seem to cancel him. How will he pick himself for the top job?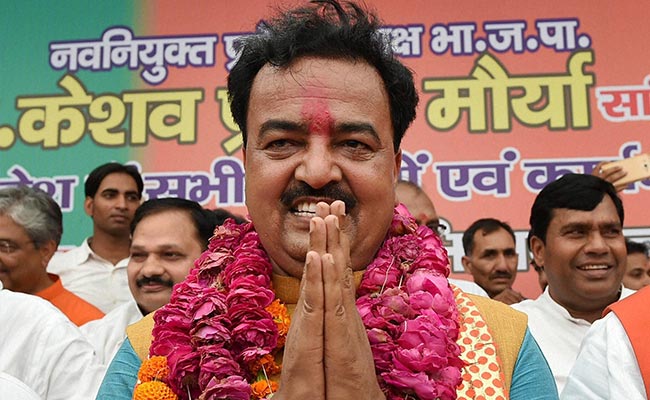 The BJP backed Keshav Maurya on ticket distribution and other election-related decisions, but there is always was a worry about his past. His political career, though impressive, also marked by nearly 50 criminal cases, including those of murder, promoting enmity between communities, intimidation and making hate speeches.
Many smirked at the Lucknow BJP office when Mr Maurya was rushed to Delhi's RML Hospital complaining of an irregular blood pressure, after Mr Shah's comments.
The BJP's brass knows it has promised the stars in the UP elections and it needs a tough administrator with a clean record and acceptability among most sections as chief minster. Who it picks in neighbouring Uttarakhand will also matter. If the BJP chief minister in that state is an upper caste leader (the dominant segment in the state) then picking an upper caste man in UP too will invite criticism that the party gets votes from all segments but goes back to the comfort zone of the upper caste for leadership.
Manoj Sinha is a Bhumihar, high on UP's caste ladder. He has established his credentials as a good administrator and a no-nonsense man. In eastern UP, he has a son-of-the-soil image despite his MTech from the Benaras Hindu University. He is considered low profile and a man who can work as part of a system, a trait preferred by PM Modi and Amit Shah.
There are others - Dinesh Sharma, the Mayor of Lucknow, non-controversial and low profile and who is the Modi-Shah duo's point man for Gujarat. The name of others like long-time legislators Suresh Khanna and Satish Mahana too have been taken for, though a section in Delhi says they could be in the running for the UP assembly Speaker's job given their experience.
The BJP's silence on who will lead the BJP in Uttar Pradesh is stunning. Not just the media, but even party workers are asking questions. The party has decided to keep workers engaged with a call for a victory celebration on Saturday. Meanwhile, ask anyone in the party and the standard reply is that only the Prime Minister and Amit Shah know.
(Rahul Shrivastava is Senior Editor, Political Affairs NDTV 24x7)
Disclaimer: The opinions expressed within this article are the personal opinions of the author. The facts and opinions appearing in the article do not reflect the views of NDTV and NDTV does not assume any responsibility or liability for the same.
Get the latest election news, live updates and election schedule for Lok Sabha Elections 2019 on ndtv.com/elections. Like us on Facebook or follow us on Twitter and Instagram for updates from each of the 543 parliamentary seats for the 2019 Indian general elections.