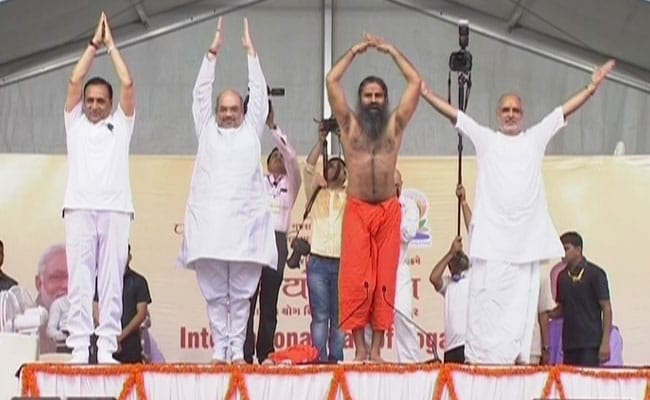 Ahmedabad:
Yoga teacher Ramdev today led what he said was a record gathering of yoga enthusiasts - nearly 3 lakh - which could ensure him a place in the Guinness Book of World Records. He also had words of praise for BJP chief Amit Shah, who had joined him on the stage at Ahmedabad's GMDC grounds at 6.45 in the morning.
Amit Shah's political weight, he said, has "increased substantially". "This must have been a source of tension to many. I request them to do yoga to ease their stress," Ramdev said during a break between two asanas.
Mr Shah, a former home minister of Gujarat, had joined Chief Minister Vijay Rupani for a 50-minute yoga session. After a brief warm-up on stage, Ramdev had led them through a number of yoga poses.
Ramdev's Patanjali, in association with the Gujarat government, is aiming to set two records. One would be for the maximum number of people performing pranayam yoga and meditation at one location. The other is for the highest number of people performing yoga at multiple locations. Around 1.25 lakh people were estimated to be present at the GMDC grounds. The Guinness officials, who were present on the occasion, are yet to provide a final figure.
The previous record was made in Delhi on June 21, 2015, when 35,985 people attended a yoga session in Delhi's Rajpath, led by Prime Minister Narendra Modi.
Today, PM Modi led the International Yoga Day celebrations from Lucknow. Despite an incessant drizzle that started before dawn, the Prime Minister, Uttar Pradesh Chief Minister Yogi Adityanath and his cabinet colleagues, spread their yoga mats on the open grounds of Lucknow's Ambedkar Sabha Sthal and held a yoga session that lasted for at least 20 minutes. Thousands of others had attended the session.