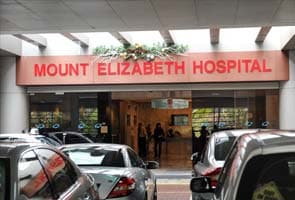 Singapore:
Doctors attending in Singapore to Amanat (NOT her real name) say that the condition of the 23-year-old student has deteriorated and that she is showing signs of severe organ failure.
Doctors at Mount Elizabeth Hospital said, "her family members have been informed that her condition has deteriorated and they are currently by her side to encourage and comfort her... The High Commission of India is with her and her family at this critical time. Our medical team continues to provide all possible treatment and care."
The statement from Dr Kelvin Loh, CEO of Mount Elizabeth Hospital said that she has been put on "maximum artificial ventilation support."
For 12 days now Amanat has been fighting for her life. She was flown in an air ambulance two nights ago to Singapore where doctors said earlier today that after three major surgeries and the cardiac arrest in Delhi, she had "a serious brain injury."
Since she was gang-raped on December 16 by six men on a moving bus, a whorl of public outrage has engulfed India.
Thousands of students have been protesting daily compelling the government to urgently address the need for new laws to protect women as well as stiffer penalties for the worst sex crimes.