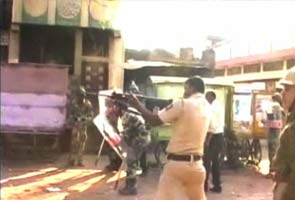 Dhule:
The video clip showing policemen indiscriminately firing during the January 6 violence in Dhule in Maharashtra has created a lot of outrage. Shockingly, even women seem to have not been spared in the firing.
Two women received bullet injuries during the communal riots. 30-year-old old Saira Ghanisa was one of the victims. While she is recuperating from her injuries, she narrated the events that unfolded on January 6.
Speaking to NDTV she says, "When I heard about the firing, I realised my six-year-old child was playing in the area. I rushed and picked him up and was returning home when three policemen came from behind and shot me. I fell down the moment I was shot."
Saira's 6-six-year-old son Arbaaz is too little to understand what happened that day but he nods with his mother when she narrates the event.
Saira was shot way above the waist, which is in clear violation of the police manual.
The police, however, defend themselves by saying Saira could have been caught in the crossfire during the melee which ensued as two groups clashed with each other. The police say they themselves were the targets of the mobs. Six people had died and over 400 were injured in the riots.
Superintendent of Police, Pradeep Deshpande, who was among the 13 officers and the 111 policemen who received injuries told NDTV, "The mobs on both sides were aggressive. Most officers and men have received stone-pelting injuries and other injuries from acid bottles. Police had to intervene and that is why we were the targets. Force was used as per guidelines and the firing was targeted only at the rioters."
However, activists, who have formed a fact-finding team, claim this is not true and the police did open fire indiscriminately in which women were also hurt. The police are hoping that its defence will stand and it will be able to justify its actions when they appear before the inquiry team; even as it struggles to regain the confidence of the victims.