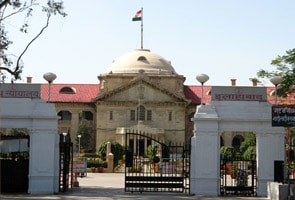 Allahabad:
In a major embarrassment to Mayawati government in Uttar Pradesh, the Allahabad High Court has set aside notifications issued for acquisition of more than 100 hectares of land in Gautam Buddh Nagar district for "planned industrial development" in Greater Noida.
A division bench comprising Justice Sunil Ambawani and Justice Kashi Nath Pandey, while allowing a bunch of writ petitions filed by residents of Shahberi village in the district, said the entire action of acquiring the land was a "colourable exercise of powers" and ordered return of the land to their owners.
The bench set aside two notifications issued by the state government on 10.6.2009 and 9.11.2009 for acquiring the land.
In the notification dated 10.06.2009, the state government had proposed "to acquire a total area of 156.93 hectares of land in the village while the one dated 9.11.2009, published in the official gazette, had declared the acquisition of land.
Passing the order, the court remarked "the entire action of acquiring the land was an colourable exercise of powers.
"The Greater Noida Industrial Development Authority was fully aware and was planning to use the land in village Shahberi and neighbouring villages for multi-storey housing complexes to be developed by builders on relaxed conditions".
The court noted with concern "that on one hand, a request was made for acquiring the land for public purpose for planned industrial development and on the other hand, a few days before the proposals were put up before the state government for issuing notification (dated 9.11.2009)... the GNOIDA, without informing the state government, held the Board's meeting for converting the land use for residential purposes to lease off the land to builders for housing complexes for earning profits".
"The land is proposed to be acquired at the rate of about Rs 850 per square meter and to be given, within a month, to the builders at Rs 10,000 per square meter and that too on payment of 5 per cent of the price, on allotment", the court said.
Quashing the notifications issued by the government and "all consequential actions taken by GNOIDA", the court ordered "the respondents will hand over the possession of the land back to the land owners".
The court also held that all the petitioners would be "made entitled to the costs of prosecuting the cases in accordance with the rules of the court".
Get Breaking news, live coverage, and Latest News from India and around the world on NDTV.com. Catch all the Live TV action on NDTV 24x7 and NDTV India. Like us on Facebook or follow us on Twitter and Instagram for latest news and live news updates.