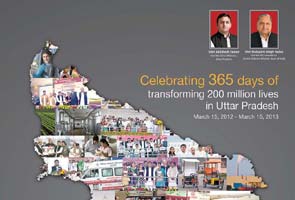 Lucknow:
Ads worth two crores in newspapers in Delhi and Uttar Pradesh announced in color and in full-page that Chief Minister Akhilesh Yadav's first year in office was fertile with achievements.
Among them, a lion safari organized in Etawah, the constituency of his father and party chief Mulayam Singh Yadav, and freebie laptops for college students.
(Removing Mulayam wallpaper crashes laptops, say students)
At a press conference in Lucknow, Mr Yadav expounded on his government's successes, claiming that "the people of Uttar Pradesh breathe more freely" because of a more efficient and transparent administration.
The biggest criticism of the soon-to-be-40 chief minister is his government's failure to sanitize the state of "goonda raj" or lawlessness, underscored harshly by the recent shooting of a senior police officer allegedly on the orders of one of his ministers, who has since resigned and is charged with criminal conspiracy.
"We will take strong steps to enforce law and order," Mr Yadav said. "Our achievements get overshadowed because of one incident."
In a lighter vein, the Chief Minister said that a good way to manage the state's potato glut - which has resulted in losses to farmers - would be to produce vodka from the harvest. "Aloo se banane wala vodka banayenge (we'll produce vodka from potatoes)," Mr Yadav quipped.
UP handed Mr Yadav's Samajwadi Party a handsome mandate last year, primarily on the promise that the party, largely associated with hooliganism, had changed its spots.
Mayawati, who was voted out as chief minister, said Mr Yadav has failed the state. "This government has failed at every level," she said.