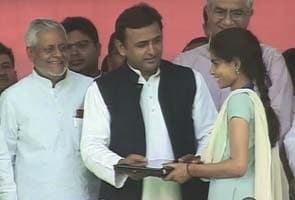 Lucknow:
The people's report card is yet to come in, but
Akhilesh Yadav
has given himself high marks on administration in colourful full-page ads in leading national dailies this morning.
The soon to be 40 Chief Minister of Uttar Pradesh completes one year in office today and lists high among his achievements "improved law and order in the state." That is one claim that even his most ardent supporter will find hard to buy. The state has seen regular incidents of violence on his watch and Mr Yadav has been hard-pressed to explain why his administration is unable to stop these.
UP handed Mr Yadav's Samajwadi Party a handsome mandate last year, primarily on the promise that the party, largely associated with hooliganism, had changed its spots and that a new and improved SP would rid the state of all lawlessness. Just days before he finished a turbulent year in office, the brutal killing of a senior policeman underscored how far Mr Yadav is from delivering on his promise.
To add to his embarrassment, one of his ministers -
Raja Bhaiya
, a politician with a long criminal record - was forced to resign after being accused of conspiring in the murder of the Deputy Superintendent of Police Zia-ul-Haq.
Today's ads, headlined 'Celebrating 365 days of transforming 200 million lives in Uttar Pradesh', have Mr Yadav and his father Mulayam Singh Yadav, who heads the Samajwadi Party, beaming down from identical photos, with a large map of UP and the long list of achievements. The distribution of 10,000 laptops to students earlier this week has pride of place - it was Mr Yadav's poll promise to the young. As does a helpline set up for women. A lion safari in Mulayam Singh's home district, Etawah, too finds mention. (
Read: Akhilesh Yadav's free laptops for students
)
Akhilesh Yadav's critics have said that while he is designated Chief Minister, there is little doubt that his father still has much control of not just the party, but also the state government's agenda.
When she was swept aside by the SP wave in the UP Assembly elections last year, a stung BSP chief Mayawati had declared that she was grabbing ringside seats to watch the Akhilesh Yadav government trip. Her party now says Mr Yadav has failed on all fronts, especially on law and order. "This government has shown promptness in reversing the good decisions of the previous Mayawati government, but when it came to improving the situation in any of the spheres they have failed miserably," said senior BSP leader Swami Prasad Maurya.
In about a year from now, Mr Yadav's governance will be put to a people's test when general elections are held. When he was chosen to be CM last year, many in his own party were unhappy and said they would've preferred father Mulayam Singh to take charge. Mr Yadav has to counter critics both outside and within his party in real time.