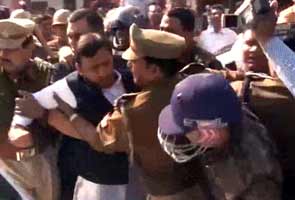 Amausi, Uttar Pradesh:
Akhilesh Yadav, whose father is Samajwadi Party (SP) chief Mulayam Singh Yadav, has been arrested at the Amausi Airport in Uttar Pradesh.
(Read: Who is Akhilesh Yadav?)
Akhilesh, who is the President of his party's unit in Uttar Pradesh, was to lead a protest against Mayawati's Bahujan Samjawadi Party (BSP), which is in power.
He landed in Lucknow from Delhi, where he had been attending the Budget session of Parliament.
"He was immediately sent to jail and even not allowed by the police to talk to media," party spokesman Ashish Yadav told reporters.
The police claim he was arrested as a preventive measure to keep the peace in the state - Mayawati has enforced prohibitory orders, banning large crowds from gathering.
Soon after his arrest, a number of SP party workers gathered at the Hazratganj crossing to register their protest.
The police allegedly hit them with batons, and some people are said to have been injured.
Get Breaking news, live coverage, and Latest News from India and around the world on NDTV.com. Catch all the Live TV action on NDTV 24x7 and NDTV India. Like us on Facebook or follow us on Twitter and Instagram for latest news and live news updates.