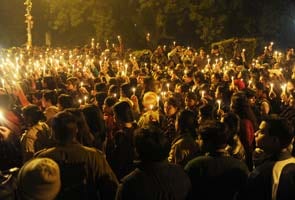 New Delhi:
Uttar Pradesh Chief Minister Akhilesh Yadav has announced a compensation of Rs 20 lakhs for the family Amanat (NOT her real name). The announcement came after the Delhi government offered a government job for one member of the 23-year-old medical student's family along with Rs 15 lakhs as compensation.
Amanat, 23, died of the horrific injuries she received during a one-hour attack of unmitigated depravity by six men. Her male companion and she were assaulted with an iron rod before she was raped by each of the men. The couple was then thrown from the bus onto the road.
The medical student died in Singapore on Saturday, three days after she was flown on an air ambulance with her family to a hospital there famous for its expertise in organ transplants.
She was cremated on Sunday morning in Delhi.
Thousands of Indians have been lining the streets with candles and placards, vowing that her death is not in vain, and that they will lobby for better safety for women along with a stronger and more effective legal system for cases of sexual assault.
Amanat's parents sold the small piece of land they owned to give her the education she was so passionate about.