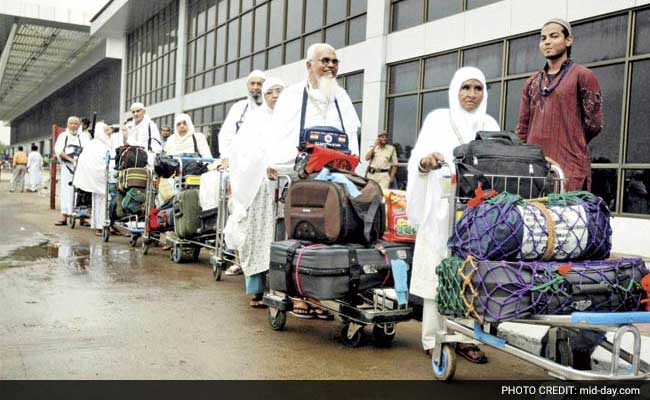 Struggling to maintain timely operations due to an ongoing clash with its employees, Air India has now offered a special incentive to crew members who report to duty on time and take limited leave during the Haj season, ensuring on-time flights for pilgrims.
A letter from Rohit Nandan, chairman and managing director (CMD) of the national carrier, was circulated on August 14, announcing a 'Haj incentive' of R10,000 for crewmembers who report to duty on time and take only three days of leave in the 40-day pilgrimage period (mid-day has a copy of the mail).
The letter reads, 'In order to improve the availability of the crew and in recognition of those cabin crew who fly to the optimum, it has been decided to give a one-time Haj Incentive of Rs 10,000 to all those who would be available and regular in flying duties and not take any type of leave beyond one day in a month of August and two days in September and October.'
The mail makes no mention of mandatory resting periods for crewmembers in between flights, but this has been the bone of contention between the airline and its staffers for quite some time.
On the Mumbai-Jeddah sector itself, mid-day had earlier reported how a crewmember was suspended after he demanded the minimum 22 hours of rest before a flight as stipulated by the Directorate of General of Civil Aviation ('Air India, crew slug it out over mandatory rest norms', May 6).
Nevertheless, the incentive has come as good news to pilgrims as well, who can now hope for punctual service. Ataur Rahman, CEO of the Haj Committee, which facilitates the pilgrimage for Indians, said, "We welcome this decision of the national carrier as it will definitely help in smoother operations. On Sunday, Air India operated three flights from Delhi, of which two were on time and the third was slightly delayed."
Preparations
Air India will operate a total of 230 flights between Jeddah and Mumbai, Delhi, Hyderabad, Srinagar, Kochi, Nagpur and Goa. 340-seater B777-300ER aircraft will be used to fly 38,000 pilgrims in two phases - departures to Jeddah in the first, and return flights in the second.
The departures for Jeddah began from August 16, and will continue for a month. However, flights out of Mumbai will only begin on September 10. The return phase will bring back the pilgrims between September 28 and October 28.
An airline official explained, "Flights are going to be operated phase-wise. Mumbai will see 14 special outbound flights in phase one and 14 inbound flights in phase two."