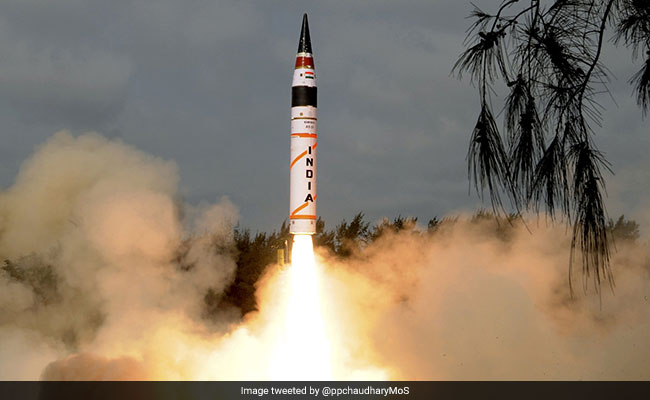 New Delhi:
India has successfully test-fired its nuclear capable surface-to-surface Agni-5 ballistic missile from a test range off the Odisha coast, Defence Minister Nirmala Sitharaman said today. The home-grown intercontinental range missile, with a strike range of 5,000 kilometres, is the most potent and longest range in its class in India. With Agni-5, India can reach almost all of China and most of Europe.
The three-stage, 17-metre tall, two-metre wide Agni-5 is capable of carrying a nuclear warhead of about 1.5 tonnes. Agni 5 is a fire and forget missile, which once fired cannot be stopped, except by an interceptor missile which only the US, Russia and Israel have.
The missile was tested from Abdul Kalam Island off the Odisha coast. Describing the trial as "fully successful", sources told Press Trust of India that the sophisticated missile travelled for 19 minutes and covered 4,900 km.
The Agni-5 was last tested on December 26, 2016. The first two successful flights of Agni-5 in 2012 and 2013 were in open configuration.
The missile will eventually join the arsenal of the tri-Service Strategic Forces Command.
With Agni-5, India will join the super-exclusive club of countries with ICBMs or intercontinental ballistic missiles (with a range of over 5,000-5,500 km); the others are the US, Britain, Russia, China and France.
The missile is programmed in a way that after reaching the peak of its trajectory it will turn towards Earth to continue its journey towards the intended target with an increased speed due to the attraction of the earth's gravitational pull, an official of the Defence Research and Development Organization told PTI.
The missile's canister-launch version gives the armed forces flexibility to swiftly transport and fire the missile from anywhere. Combined with India's regional satellite based navigation system NAVIC, Agni-5 is great force multiplier for the armed forces.
The missile can be deployed from mobile launchers and can even be hidden in a railway wagon. What makes it a great asset for India's second strike capability in case of a nuclear war, Agni-5 can be launched from anywhere and anytime.
If required, Agni-5 can also be used to target satellites as an anti-satellite weapon and can also be used to launch Indian satellites in hostile circumstances.
India has at present in its armoury of Agni series, Agni-1 with 700 km range, Agni-2 with 2000 km range, Agni-3 and Agni-4 with 2500 km to more than 3500km range.
With inputs from PTI