Ahmedabad:
Chief Ministers of the BJP-ruled states today said the party's victory in Gujarat for the sixth consecutive time in the recently-held polls was a remarkable achievement.
Chief Ministers of Uttar Pradesh, Chhattisgarh, Haryana, Maharashtra, Assam, and Bihar praised
Vijay Rupani
, who took oath for the second consecutive time as Gujarat chief minister at a function held in Gandhinagar.
"It is a matter of great pleasure for all of us. Gujarat developed a lot during the tenure of Narendra Modi as chief minister. Some people were assuming that BJP will not come back after Modi left the state as prime minister. But it is a matter of immense pleasure that the BJP managed around 50 per cent vote," said Maharashtra Chief Minister Devendra Fadnavis.
Uttar Pradesh Chief Minister Yogi Adityanath also congratulated Mr Rupani and Deputy Chief Minister Nitin Patel.
Madhya Pradesh Chief Minister Shivraj Singh Chouhan, who came to Gandhinagar but could not attend the
swearing-in ceremony
, said the recent electoral outcome shows that people have reposed their "faith and trust" in PM Modi and BJP president Amit Shah.
"I express gratitude to voters and give best wishes to (Vijay) Rupani and Nitin Patel for bringing the BJP back to power for the sixth time. Congratulations to the BJP for Gujarat victory. Gujarat has given a different model of development, and it is a faith and trust towards Modi that BJP keeps winning and coming back to power (in Gujarat)," Mr Chouhan told reporters after the event.
His Chhatisgarh counterpart Raman Singh said the poll result was the result of hard work put in by PM Modi and Amit Shah.
"Gujarat has again voted for BJP government. We thank Modi and Amit Shah who worked hard to achieve this. It will be a history that the BJP will rule a state for 27 years," Mr Singh said.
Manohar Lal Khattar, Sarbananda Sonowal, and Nitish Kumar--chief ministers of Haryana, Assam, and Bihar, respectively---also extended their best wishes to the new government.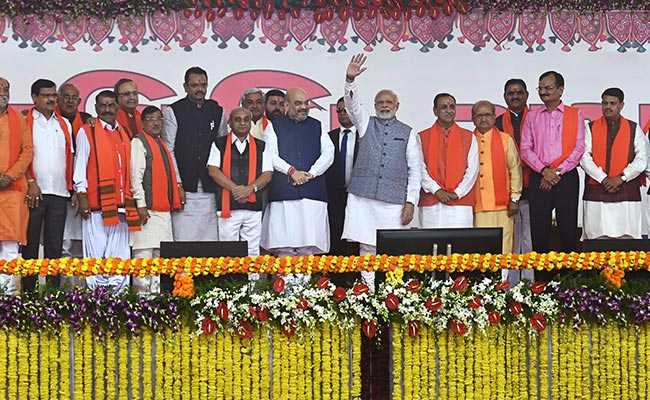 Vijay Rupani and Nitin Patel were sworn in today along with 18 other ministers.
The event, held near the state secretariat in Gandhinagar, was attended by PM Modi and Amit Shah, besides the chief ministers of the BJP-ruled states.
With 100 MLAs, the BJP has a simple majority in the 182-member Gujarat Assembly, 16 less than its 2012 tally of 115.
The opposition Congress, which had won 61 seats in 2012, managed to increase its tally to 77 this time around.
The strength of the party and its allies in the new House is 80.
Mr Rupani and Mr Patel were elected as the leader and deputy leader of the BJP legislature party, respectively, at its meeting held on December 22.
Get Breaking news, live coverage, and Latest News from India and around the world on NDTV.com. Catch all the Live TV action on NDTV 24x7 and NDTV India. Like us on Facebook or follow us on Twitter and Instagram for latest news and live news updates.