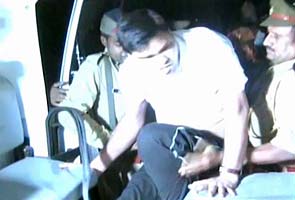 Aligarh/Lucknow:
Rinku Singh Rahi, the provincial civil services officer in Uttar Pradesh, who was whisked away by the police in a midnight crackdown in Lucknow, has now sat on his protest fast in Aligarh. The Uttar Pradesh officer has been trying to expose corruption in welfare schemes.
The Lucknow police picked up Mr Rahi on Monday night as he sat on a protest fast outside the assembly and allegedly took him to a mental ward in a hospital. But after the doctors rejected the attempt, Rahi was made to leave the city and was sent off to his hometown Aligarh.
Mr Rahi, who is currently posted at a state-run coaching institute for IAS and IPS aspirants in Aligarh, began his fast unto death on Monday demanding a probe into alleged corruption in the Social Welfare Department of the state's Muzzafarnagar district. He has alleged that despite a peaceful protest, the cops first lathicharged his group. And then, he added, they took him to a hospital and urged the staff there to admit to him to a psychiatric ward.
"They told me they are taking me to a hospital because I had high blood pressure. But they tried to admit me to a psychiatric ward. The doctors refused to admit me. They said there was no need to treat me. I tried to expose certain scams that happened and so they want to shut me up. This was done on the instructions of the Samajwadi Party. This was well planned," Mr Rahi told NDTV, narrating his ordeal.
Mr Rahi has seen much worse. In March 2009, when he was the District Social Welfare Officer in Muzaffarnagar, he was shot at by local mafia - they fired six bullets at him. As a result of the assault, he lost vision in one eye. The attack happened after he reported accounting discrepancies worth Rs. 40 crore to higher authorities. He claims the attack was orchestrated at the behest of some corrupt officials of his department and Samajwadi Party leader Mukesh Chaudhary. Mr Chaudhary's privately owned schools allegedly benefitted from corruption in the Social Welfare Department of the district
Civil society activists like Arvind Kejriwal have come out in support of Mr Rahi. "He has raised a genuine voice against corruption. The issue is when the ruling party is directly involved in corruption, murder and assault, from whom does one seek protection?" he said.
The new Uttar Pradesh Chief Minister, already facing complaints hooliganism and violent behavior by his partymen, sure has more to answer after this incident. Ironically, before setting out for Lucknow for his hunger strike, Mr Rahi had told reporters in Aligarh that with a regime change in UP, he was hopeful that the Akhilesh Yadav government would pay heed to his demands of a criminal investigation into the allegations of widespread corruption in social welfare schemes of the state government.