New Delhi:
Highlights
BJP demands apology from Sonia Gandhi over Manish Tewari's tweet
'Congress should hang its head in shame': BJP spokesperson Sambit Patra
Manish Tewari later said he meant "no offence" to the Prime Minister
After
Digvijaya Singh's shocking tweet last week
, another senior Congress leader and former Union minister Manish Tewari today used crude abuse while attacking Prime Minister Narendra Modi on Twitter. The BJP has demanded an apology from Congress president Sonia Gandhi and her son and deputy Rahul Gandhi.
"When people like Manish Tewari and Digvijaya Singh use such language... the Congress should hang its head in shame. Its top leadership should come out and apologise," said the BJP's Sambit Patra.
Mr Tewari, who was lambasted on social media, later said in a series of tweets that he had used a "colloquial Hindi phrase" in response to a tweet and meant "no offence" to the Prime Minister.
The Congress leader had earlier in the day tauntingly posted a video that showed PM Modi starting to inspect a guard of honour during his recent visit to Russia even as the national anthem played. When he was called out in a tweet, he replied using cuss words.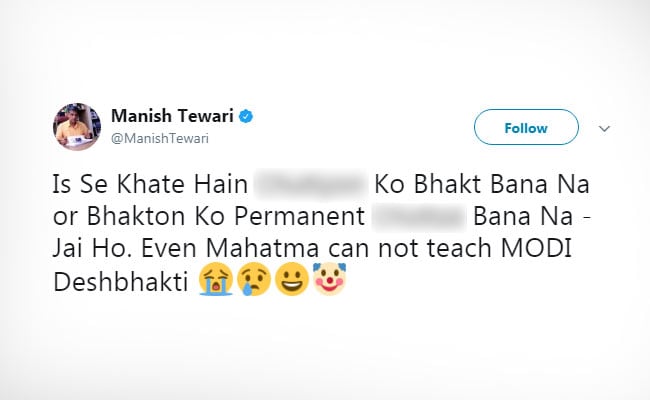 BJP leader Shahnawaz Hussain said the Congress was "crossing all the limits". "There can be difference in politics, but to use such language for the PM of the country is unacceptable," he added.
Mr Patra said the political discourse from the Congress has steadily gone downhill and has become abusive. "Opposition in democracy is not bad. But the kind of language that was used by the former Information and Broadcasting minister and the person who calls himself a lawyer, is absolutely astonishing," he said.
Mr Tewari's comment today was similar to a meme that senior Congress leader Digvijaya Singh had shared last week, drawing huge criticism.
He also tweeted today, "Willing to apologise for using a 'colloquial' Hindi phrase. However will PM promise to unfollow those who heap unmentionable abuse on women???"
The Congress has attacked PM Modi over a Twitter account that he follows posting a vicious message against journalist Gauri Lankesh after she was gunned down at her Bengaluru home earlier this month.
The BJP has said the PM's tracking of certain accounts is "not a character certificate" and "is not in any way a guarantee of how a person would conduct himself".
Senior Congress leader PC Chacko said the use of objectionable language was "deplorable," but added that he had not seen Mr Tewari's tweet. "Everyone is free to express their opinion," he also said.