Highlights
Prashant Kishor was targeted in Lucknow poster for election result
Top leaders today credit him with Punjab victory
'Reject propaganda by vested interests' (against Kishor): Congress
New Delhi:
Prashant Kishor, who was the Congress' election campaign manager, is getting some belated TLC from the party, which has, on his watch, added new losses to a slate already full of them.
"The Congress party is satisfied with Prashant Kishor's work. Victory and failure are part of the game," said party spokesperson Randeep Singh Surjewala today.
Similar compliments were paid on Twitter by Captain Amarinder Singh, who, at 75, has just taken over as Chief Minister of Punjab.
Fully endorse this! As I have said many times before, PK & his team and their work was absolutely critical to our victory in Punjab! https://t.co/QtzoHdjPx6

- Capt.Amarinder Singh (@capt_amarinder) March 21, 2017
The acclaim comes after
a poster was displayed over the weekend
at the Congress office in Lucknow, sarcastically offering five lakhs in exchange for locating Mr Kishor, who has offered no comment on the party's election result. Mr Kishor, 40, typically does not speak to the media.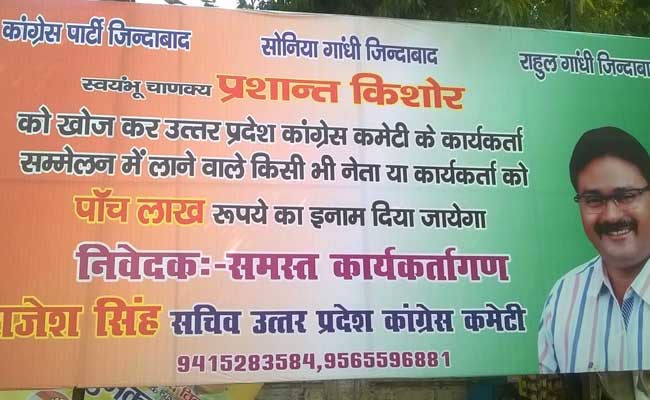 Considered an election wunderkind after he was credited with devising a high-tech and innovative campaign for Prime Minister Narendra Modi in 2012, he was hired by the Congress four years later to help change its fortune. He signed up to manage the party's strategy in Uttar Pradesh and Punjab and then, belatedly, in Uttarakhand. In Punjab, he found a willing and tireless ally in Captain Amarinder Singh, at whose home he stayed, a fact often referred to by both men when reports emerged of clashes over selecting candidates and other key issues. Captain's victory, returning the Congress to power in Punjab after 10 years, was the sole success for Mr Kishor in the recently-concluded election in five states.
Uttar Pradesh was an unmitigated disaster with the party sinking to just seven of 403 seats, its worst-ever result despite a collaboration with Akhilesh Yadav and his Samajwadi Party that was engineered largely by Mr Kishor. Sources close to the strategist say that when attributing culpability for the performance, it's important to remember that Mr Kishor's early suggestions that were devised as "game-changers"- including the promotion of Priyanka Gandhi Vadra as the presumptive Chief Minister- were rejected. He did his best, they say, given the determined opposition from the party's old-guard, leaders like Ghulam Nabi Azad and Raj Babbar, who were reportedly distrusting of Mr Kishor's ideas and his easy access to the Gandhi family.