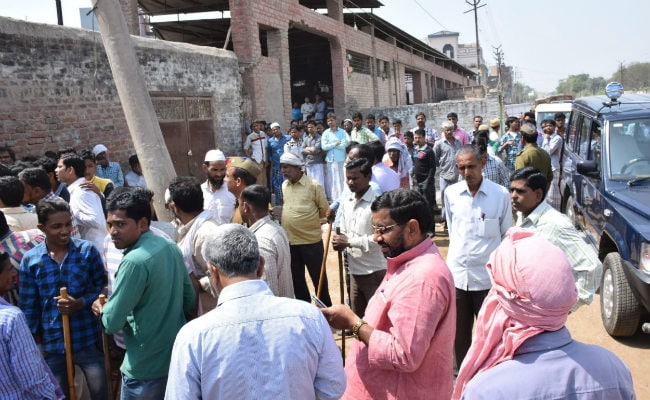 Varanasi:
A slaughterhouse, which was allegedly being run illegally, was sealed by the district authorities in the Kamalgadaha locality under Jaitpura police station in Varanasi, police officials said. The development comes only two days after a BJP government led by chief minister Yogi Adityanath was sworn in Uttar Pradesh. Officials claimed, that the slaughterhouse had been shut down in 2012, but it continued to operate in a clandestine manner.
A joint team of Pollution Control Board, municipal authorities, along with administrative and police officials sealed the slaughterhouse and also recovered over five dozen cattle.
Officials said that the slaughterhouse was sealed after the caretakers were unable to furnish valid papers for the cattle.
The caretakers it is learnt told authorities that the cattle had been brought in temporarily and were to be transferred to other places. They also denied that animals were being slaughtered, it is learnt.
However, not convinced, the authorities decided to seal the abattoir.
Earlier, shortly after Adityanath took oath two days back, authorities had sealed two slaughterhouses in Allahabad.
The BJP had announced, in its manifesto titled 'Lok Kalyan Sankalp Patra', that it would take "stern steps to close down all illegal slaughterhouses besides banning mechanised slaughterhouses" if it comes to power.
The Ghaziabad Police today sealed 10 meat shops and four slaughter houses which were allegedly running illegally in the city.
Senior Superintendent of Police Deepak Kumar said a team led by two senior officers Salman Taj Patil (SP City) and Atul Kumar (SDM Sadar) forayed the slaughter houses and sealed four premises in Kaila Bhatta-Islam Nagar area.
As the news of police action spread in the area around 10 slaughter house owners shut down their butcher houses and skipped away, the SSP said.
34 illegal meat shops and slaughter houses have been sealed within a span of one week from March 15, sub-divisional magistrate (SDM) Prem Ranjan Singh said.
He added that following the complaints of the residents of Loni town today, raid was conducted along with police and civic body officials and 10 meat outlets were sealed.
The report of the police action has been sent to the district magistrate Nidhi Kesarwani, he said.
City Mayor Ashu Verma has instructed Nagar Nigam health officer to take action against illegal meat shops and to ensure their closure, pointing out that only 210 shops are being run in whole in the city in the records of Nagar Nigam.
No person will be spared if found indulged in unlawful butchering the animals and FIR will be lodged against them in concerned police stations, the SSP added.