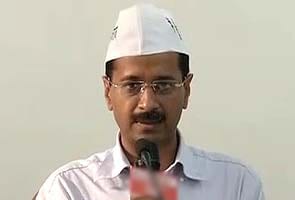 Ghaziabad:
Activist-turned-politician Arvind Kejriwal has hinted at a possible foul play after one of his party colleagues was critically injured in a road accident in Ghaziabad, near Delhi.
Santosh Koli, a core committee member of Mr Kejriwal's Aam Aadmi Party (AAP), was going to party office on Sunday when a speeding car rammed into the motorcycle on which she was riding pillion. She has sustained severe brain injuries, the AAP said.
"Santosh Koli, our candidate from Seemapuri constituency, hit by a car. She is in v critical condition. Pl pray for her. Is it an accident? Or deliberate?" Mr Kejriwal tweeted this morning. Mr Kejriwal, along with party colleague Manish Sisodia, visited Ms Koli at the hospital.
Ms Koli is a contestant for upcoming Delhi Assembly elections. The Ghaziabad police have registered a case.
"We are investigating. The incident took place at around 5.15 pm on Sunday. We are trying to trace car which is still to be identified, and have appealed to people to share if they have any information about its identity," Ghaziabad Superintendent of Police Shiv Shankar Yadav said.
Rajan Prakash, one of the members of the AAP, claimed that Ms Koli had received a threat few days back, warning her not to enter into politics.