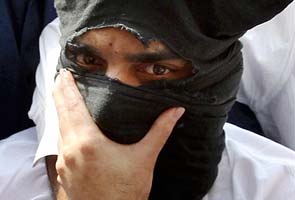 Mumbai:
The chances of their occupying the same jail cell are remote, but Crime Branch officials say Zabiuddin Ansari alias Abu Jundal - whose police custody was extended till August 13 by the Esplanade court yesterday in connection with the 26/11 attacks - was a roommate in Pakistan with Ajmal Qasab and the nine other terrorists who stormed Mumbai in November 2008.
Also, Hafeez Saeed - the mastermind behind the strike, and Lashkar-e-Taiba (LeT) chief - used to visit the control room daily to monitor the activities of the operation.
While interrogating him, police have also learnt that Jundal was using nine email IDs and was in touch with his counterparts in Pakistan and Saudi Arabia via them. Crime Branch officials are trying to break into the accounts and retrieve the data.
"Jundal had shared a room with the 10 terrorists while they were receiving training at the LeT camp," said a Crime Branch officer. "We are trying to determine how Jundal got in touch with LeT men," he added.
In the same boat
Crime Branch is in the process of getting a DNA sample of Jundal to compare it with the ones they found on MV Kuber - the fishing trawler that ferried the 10 terrorists to Mumbai's shores. While some of the samples recovered from the boat matched those of the attackers, there were other specimens whose origins were unknown. Cops suspect that one of the unclassified samples may be Jundal's.
Police are also trying to find out how Jundal slipped away from Majalgaon in Beed - his hometown - in 2006. On May 6 that year, cops had chased two vehicles on the Manmad-Chandwad highway and stopped one of them - a Tata Sumo - in Aurangabad. Three men trying to flee were arrested and 30 kg of RDX, 13 AK-47s and 3,200 live bullets were recovered. However, Jundal escaped in the second car, an Indica. On May 9, police arrested three men while they were driving the Indica in Malegaon. However, Jundal had got away. Cops suspect he had help, and are still investigating this aspect.
Abu who?
Jundal allegedly directed the terrorists who attacked Mumbai from a control room in Pakistan. He was picked up by the Saudi police, who put him on a New Delhi-bound flight after alerting Indian authorities. He was arrested on June 21. Jundal is said to have also provided training to the men who laid siege to Mumbai at a camp in PoK. He is also linked to the Ahmedabad and Pune blasts.