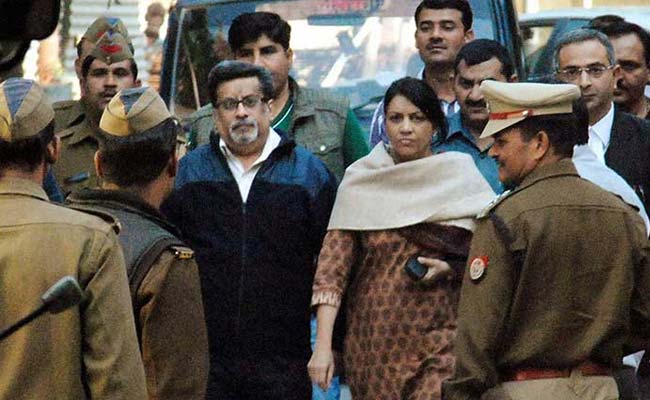 New Delhi: Nupur Talwar, who is serving a life term for the murder of her 13-year-old daughter Aarushi Talwar, has been granted parole for three weeks to visit her mother in Noida. She has to keep the police informed about her movements regularly.
Here is a 10-point guide to this story:
Rajesh and Nupur Talwar, both dentists, were sentenced to life in jail after a court in Uttar Pradesh held them guilty of murdering their only child Aarushi and domestic help Hemraj in May 2008.
They have been in jail since 2013. They have appealed against their conviction.
Aarushi was discovered with her throat slit in her bed at the Talwars' Noida apartment just days before her 14th birthday. The main suspect was the family's missing domestic help Hemraj until his corpse was found on their terrace.
Investigators say nobody broke into the Talwars' home and it was an insider job. But they also said that they did not have evidence to prove who did it or what was the motive.
There was no forensic or material evidence against the Talwars as a section of investigators said they had killed their daughter after finding her with Hemraj.
In December 2010, the CBI filed a closure report in the case because it had no evidence but said they suspected Rajesh Talwar.
The court ordered that the case should not be shut and summoned both Rajesh and Nupur Talwar for further proceedings.
In 2013, the Allahabad High Court accepted the CBI's argument based on the "last-seen theory" -- which holds that the victims were last seen with the Talwars on the night that the murders were committed.
What became India's most compelling whodunnit has inspired a book and a Bollywood film, "Talvar", released last year.
The book has excerpts from Rajesh Talwar's diary in jail, in which he writes about the night of the murder: "If only I would have gotten up...I could not even save my dear Aaru."