Highlights
Nupur, Rajesh Talwar found innocent of killing Aarushi and domestic help
Had to wait in prison for four days due to formalities
They have gone to Nupur Talwar's parents' home in Jal Vayu Vihar
New Delhi:
Rajesh and Nupur Talwar,
exonerated in the murder of their only child Aarushi
and domestic help Hemraj in 2008, were freed this evening after four years in a jail near Delhi.
Watched by a huge crowd, the Talwars, each holding bags, walked out of the Dasna prison in Ghaziabad and paused - Rajesh Talwar in a white shirt and dark trousers and Nupur Talwar in a salwar kurta - letting multiple cameras capture their first few moments of freedom.
The Allahabad High Court had on Thursday cancelled the life sentence handed out to the Talwars by a lower court that had
convicted them based on circumstantial evidence
.
The couple then went to Nupur Talwar's parents' home in Jal Vayu Vihar, where they will be staying for now. Their own apartment, in which their daughter was murdered, is in the same complex and has been rented out.
In the evening, Rajesh Talwar's brother Dinesh Talwar told the media that for Arushi's parents. the fight was not for their freedon but to clear their daughter's name. "The day he was convicted, Rajesh said just one thing. 'We will fight till the end for Aarushi. I want to ensure her name is cleared'," he said.
"Today, I want to say Aarushi was a good girl. Hemraj wasnt bad. You can reverse this statement and it would still hold true," he added.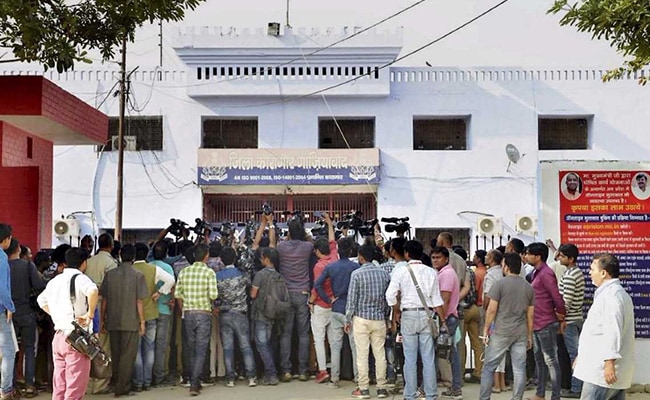 Arushi Talwar's parents Nupur and Rajesh Talwar were lodged in the Dasna Jail near Ghaziabad.
"I want my clients to live in peace, it is my humble request with folded hands that their honour and dignity be restored," lawyer Tanveer Ahmed Mir told NDTV.
The Talwars' release was delayed because
a copy of that verdict had not been delivered to the jail
last week. They have asked for police protection, citing an earlier attack on Rajesh Talwar at the Ghaziabad court.
The dentist couple has offered
to visit the prison every fortnight to treat prisoners
, say officials. They helped revive the dental department at the prison hospital and treated prisoners as well as the staff, police officers and their children over the years, without charging anything. According to jailor D Maurya, the Talwars refused as much as Rs 49,500 as fee.
"We were concerned about the dental department after their release. They have assured us that they would visit jail to attend to inmates every 15 days," said jail doctor Sunil Tyagi.
While acquitting the Talwars, the High Court likened the trial judge who held them guilty to a "math teacher" and a "film director trying to thrust coherence into scattered facts". The judges also said the CBI had failed to prove beyond doubt that the Talwars had killed their daughter.
In what remains India's most sensational whodunit, Arushi Talwar was found with her throat slit in her bedroom just days short of her 14th birthday. The family's domestic help Hemraj was suspected until his decomposing body was discovered the next day on the rooftop of the apartment building.
In 2015, the Talwars were convicted by a lower court. They then appealed against that verdict in the Allahabad High Court, which has ripped apart the CBI.