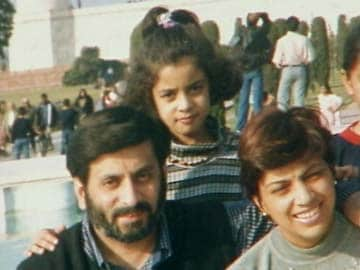 Ghaziabad:
Nupur and Rajesh Talwar were found guilty today of murdering their teen daughter Aarushi and their domestic help Hemraj at their home in May 2008. The couple, both dentists, have been taken to a jail in Ghaziabad; they are expected to be sentenced tomorrow. (
Track LIVE updates here
)
The couple reportedly broke down in court when the verdict was announced. A statement released on their behalf said, "We are deeply disappointed , hurt and anguished for being convicted for a crime that we have not committed. We refuse to feel defeated and will continue to fight for justice." (
Full text of statement here
)
The Talwars will challenge the judgement in a higher court, said their lawyers. (
10 latest development
)
India has been transfixed by the case, partly because it involved a prosperous urban family and partly because of the vicissitudes the Talwars have traversed in the five years since the murders.
Investigators have acknowledged there is no forensic or material evidence against evidence against them, even seeking court permission to end the case in December 2010. However, the judge refused, and ordered that the couple would stand trial for murder and destruction of evidence.
Investigators have offered the supposition that Aarushi was killed in a fit of rage when her parents found her with Hemraj in an "objectionable" situation. The Talwars have insisted they are the victims of an investigation jutting with incompetence.
"We loved Aarushi, we have no lives without her. This has been a never-ending nightmare," Rajesh Talwar told news agency AFP in a recent interview outside the court in Ghaziabad where he was convicted today.
The CBI says it's case is based on the "last-seen theory" -- which holds that the victims were last seen with the Talwars. (
Case Timeline
)
On May 16, 2008, Rajesh Talwar told the police that Aarushi had been found dead in her bed. Hemraj, the domestic help who lived with them was missing and declared the main suspect, till his body was found the next day on the Talwars' roof..
The police provided a litany of exhibits of callousness and carelessness after which the case was transferred to the CBI.
At a press conference, a senior officer said Aarushi had been found in an objectionable position with Hemraj - a statement made without any proof and which equaled the character assassination of a young girl. The crime scene was not sealed - reporters and others were given access to the Talwar home and the roof where Hemraj was found.
Rajesh Talwar was arrested seven days after the murder and spent two months in jail before being granted bail when the CBI said it had no evidence against him. Later, his wife Nupur was imprisoned for five months for ignoring orders to appear in court.
The CBI offered another theory which it was forced to discount, also because of a lack of evidence- that three other men, all known to Hemraj, had killed him after he tried to stop them from attacking Aarushi. The trio was arrested, but narco-anaylsis and lie detector tests proved inconclusive, and they were freed.