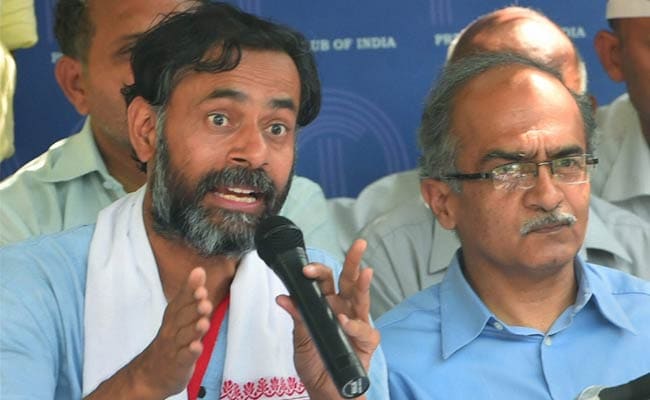 New Delhi:
Rebel Aam Aadmi Party leaders Yogendra Yadav and Prashant Bhushan today gave scathing replies to a show-cause notice accusing them of anti-party activities.
"The kangaroo trials, expulsions, witch-hunts, character assassination, rumour campaigns and emotional theatre to justify such macabre acts - all this is so true of the Stalinist regime," Mr Yadav said.
Mr Bhushan said, "I am not aware as to who has constituted this National Disciplinary Committee and when and how this was done." The two leaders were served notice last week after they launched a "Swaraj Abhiyan (self-rule campaign)," seen by many as a prelude to a breakaway party.
They both called the disciplinary committee illegal. Mr Bhushan headed the panel until he was removed last month.
Targeting two of its members, Pankaj Gupta and Ashish Khetan, Mr Bhushan said, "You had complained against me and now want to become judges of your cause."
"You also know that there have been serious charges against you yourself," said Mr Bhushan. He alleged that Mr Gupta had accepted 'donations' of Rs. 2 crore from shell companies without taking the approval of the Political Affairs Committee.
He said Ashish Khetan, a former journalist, had been accused of "writing a planted story for Tehelka in defence of the Essar Company," which was charge-sheeted by the CBI in the 2G spectrum scam.
"Moreover Tehelka was paid several Crores by Essar at that time for their 'Thinkfest' at Goa. Will this therefore not qualify as a 'paid news' story?" he questioned, adding that Mr Khetan, instead of being removed, had been rewarded with a role in the disciplinary committee.
In response, AAP's Ashutosh said Mr Bhushan "is making a laughing stock of himself."
"Enough is enough. Either Prashant Bhushan proves these allegations or else he should apologise," Ashutosh said, adding that "Khetan is a journalist with an impeccable image."
Mr Yadav and Mr Bhushan have alleged that they are being hounded and victimized for taking on party chief Arvind Kejriwal and objecting to what they call his dictatorial ways.