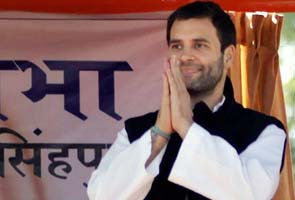 New Delhi:
With the cabinet reshuffle out of the way, the next big one is going to the expected reorganisation of the Congress party. Speaking to NDTV after the reshuffle today, Congress president said that the internal changes will "come soon" but didn't put an exact date on it.
The tone was set by seven ministers who resigned ahead of the reshuffle; four of them are veteran Congress leaders who say they are headed back to work for the party. That fits in with the party's plan for an organisational shake-up to invigorate the party before crucial state elections and then the 2014 Lok Sabha polls.
That could start at the top with much speculation now that Rahul Gandhi will take over a bigger role and could even be appointed the party's Working President or a virtual second-in-command for his mother, party president Sonia Gandhi.
Mr Gandhi, who once again declined to join the Manmohan Singh government in today's reshuffle, is said to have been involved in intense discussions on the casting of the new-look Cabinet. The PM said after the reshuffle that he was "disappointed" that Mr Gandhi hadn't joined the government. The reshuffle is being seen as having the stamp of Mr Gandhi all over it, who stood next to his mother and the PM for the national anthem at Rashtrapati Bhawan before the swearing in.
Though there was speculation that he might join the government himself in this reshuffle, Congress sources have said that Mr Gandhi is most likely to get a "bigger role" in the party in an internal reorganisation planned soon.
Mr Gandhi is expected to focus on strengthening the party and preparing it for a series of crucial state elections and then the Lok Sabha elections. He reportedly met both the Prime Minster and Congress president Sonia Gandhi on several occasions recently, including on Saturday.
Ambika Soni, who gave up the important Information and Broadcasting portfolio yesterday and said it would be "an honour" to work for the party, is said to be headed for a big role in party affairs. She has previously been a political secretary to Congress president Sonia Gandhi and has also been general secretary in charge of important states.
SM Krishna, who was the first to resign from his post of Minister of External Affairs, will likely handle party affairs in Karnataka, which goes to polls next year. Mr Krishna is a former Chief Minister of the state. "I am a loyal worker of the party," Mr Krishna had said after resigning on Friday.
Mukul Wasnik, who resigned as Social Justice and Empowerment Minister, has always been seen as a strong organisational man and said yesterday, "Congress has always given place for youngsters and this is not new. Initiatives are taken and there is scope for improvement."
Tourism Minister Subodh Kant Sahay too said the same thing, but his being dropped from the cabinet is being seen more as a result of his name cropping up in the coal block allocation controversy, specifically his allegedly having lobbied the Prime Minister's Office to intervene on behalf of a firm in which his brother was a director to land coal fields.