Sopore:
A screensaver on a mobile phone is the last photo that remains of Burhan. The three-year-old was sitting on his father's lap when two armed men broke into their home in Jammu and Kashmir's Sopore and opened fire.
Burhan's father, Bashir Ahmed was a former terrorist. But it has been 15 years since he gave up the gun and settled as a fruit merchant in Jammu and Kashmir's Baramulla district. He had a wife and two children.
On Friday night, two men armed with guns and a grenade attacked his home. While the grenade didn't go off, they sprayed Bashir and his son Burhan with bullets. Then they escaped from the scene on a motorcycle.
Bashir died even before reaching the hospital. Burhan survived the night but lost the struggle this morning. He was the youngest among eight people who have been killed by unidentified gunmen since May in the Sopore area.
"This is the real face of so-called jihadi terrorists who are claiming that they are doing jihad for the people of Kashmir. They are killing infants, they are killing women, they are killing innocent people," said Jammu and Kashmir Deputy Chief Minister Nirmal Singh.
Burhan had started school just four months ago. His parents had just got him a new school uniform, school bag and lunch box. The incident has sent shockwaves in the region and evoked strong condemnation across the Kashmir valley.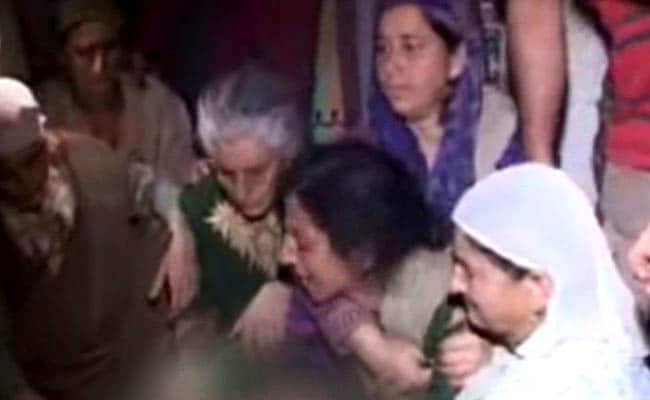 "This is sheer injustice and barbaric that even a little kid was not spared. They were both wearing masks carrying guns and came on a bike. Everybody was scared and nobody caught them," said Aejaz Ahmad, a relative.
Sagipora in North Kashmir erupted in anger when Burhan's little body was taken to the graveyard.
"It is most unfortunate that little kids have become victims. They have seen nothing in this world, those kids who are totally innocent, they have committed no sin," said Abdul Ahad who lives in the neighbourhood.