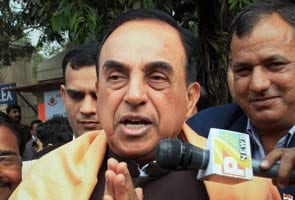 New Delhi:
The Supreme Court today dismissed a curative petition filed by the BJP leader Subramanian Swamy who sought a CBI probe into Finance Minister P Chidambaram's role in the 2G scam.
This was Mr Swamy's last legal option against Mr Chidambaram in the high-profile case which has seen unprecedented acrimony between the BJP and the Congress.
In August 2012, the top court dismissed petitions by Mr Swamy and an NGO called Centre for Public Interest Litigation or CPIL to probe Mr Chidambaram's role in the 2G case.
Mr Swamy continued his legal fight and filed a review petition asking the court to reconsider its decision. But that was again dismissed by the top court in December last year.
This time, Mr Swamy approached the Supreme Court through a curative petition, the last legal option available to challenge the top court's decision.
Dismissing the petition, the court today said, "We have gone through the curative petition and the relevant documents. In our opinion, no case is made out within the parameters indicated."
The 2G spectrum scam, worth billions, has been described as India's biggest swindle so far. In 2008, Mr Chidambaram was Finance Minister when the then Telecom Minister A Raja allegedly broke the rules to help companies who were ineligible to land valuable mobile network licenses at throwaway prices.
The CBI is probing the scam in which 14 people and several companies, including the promoters of some of India's biggest telecom companies, have been accused of conspiring to rig the process of allocation of licenses.
The high-profile case is also being investigated by a Joint Parliamentary Committee, which has 20 members from the Lok Sabha and 10 from the Rajya Sabha.