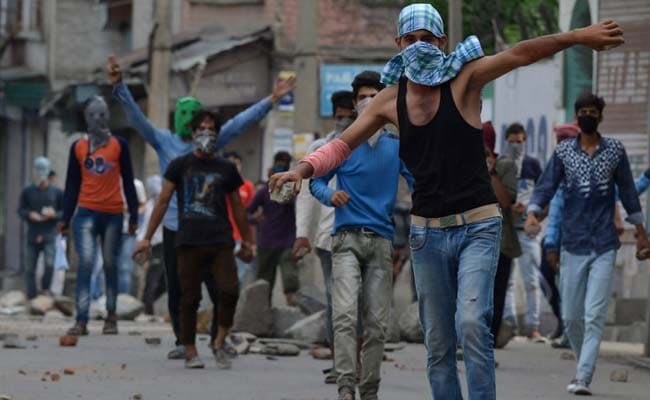 Highlights
Money routed to pro-Pakistan separatist group functionaries: Source
Youth being paid to protest, unrest expected to continue: Official
65 dead, 5,000 injured in clashes since killing of terrorist Burhan Wani
New Delhi:
As fresh clashes are reported between protesters and security forces in the Kashmir Valley, a top government official told NDTV that about 24 crore rupees have been poured into keeping the unrest seething in the last three weeks.
The official, among those handling Kashmir affairs at the centre, alleged that much of the money from across the border has been routed to mid and senior-level functionaries of pro-Pakistan separatist groups operating in Kashmir like the Jammat e Islami and the Dukhtranan-e- Millat, headed by Asiya Andrabi.
The government, sources said, does not expect the unrest to die down soon. "With the kind of money being pumped in it is unlikely that protests will die down. The youth of the valley are being paid to continue with protests and attacking security forces," top government sources said.
The government says Pakistan has incited and facilitated the violent protests in Kashmir that began on July 8 when Hizbul Mujahideen terrorist Burhan Wani was killed by security forces. The Pakistan government has openly supported the protests, likening them to a "freedom struggle" and lionising Burhan Wani.
65 people have now died, six of them since last evening, in clashes between protesters and security forces in just over a month. More than 5000 people have been injured, many of them security personnel.
Protesters have set fire to police stations and attacked security bases. This morning, 300 people reportedly attacked a bus in Budgam carrying Central Reserve Police Force personnel or CRPF personnel, who opened fire. Five people were killed.
One person was killed last evening when security forces opened fire at protestors during clashes in Srinagar's Batamaloo area.
Union Home Minister Rajnath Singh, who is holding daily meetings to review the Kashmir situation, told Parliament last week that the security forces have been asked to exercise "maximum restraint" and limit civilian casualties to the extent possible.
Mr Singh met National Security Adviser Ajit Doval and the Director of Intelligence Bureau today to discuss the fresh outbreak of violence.
The Kashmir Valley has been under curfew for an unprecedented five weeks.