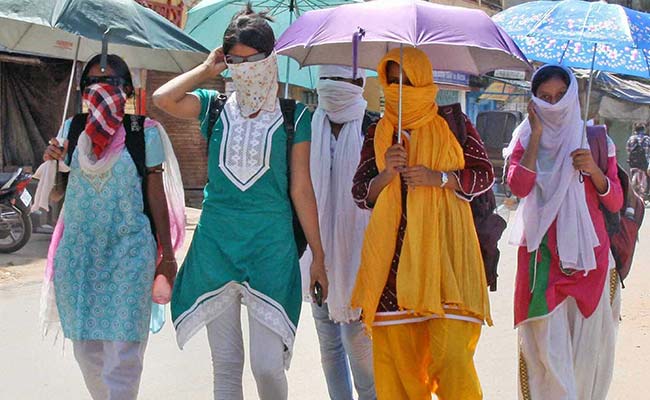 New Delhi:
The Meteorological Department has warned of heat wave like conditions in parts of India, which touched 38 degree Celsius on February 28. Maximum temperatures spiked in most parts of Maharashtra, Telangana, coastal Andhra Pradesh, parts of Karnataka, Gujarat, western Madhya Pradesh and Odisha. The weather office called it "normal to above normal heat wave conditions" in central India. In a nutshell, the summers of 2018 will be hotter, with a minimum of 1 degree or more rise in maximum temperatures, than the normal.
The top 10 points on early summer in India
The Indian Meteorological Department (IMD) says the maximum temperatures on Thursday are "markedly above normal", that is, 5 degrees or more in most places in west Rajasthan, Jammu and Kashmir, Himachal Pradesh, Haryana, Chandigarh, Delhi and west Madhya Pradesh

Temperatures are "appreciably above normal", that is, 3 to 5 degrees more in most places of western Uttar Pradesh, western Madhya Pradesh, Gujarat, Goa and coastal Karnataka

Akola in Vidarbha, recorded the highest temperature at 38.4 degree Celsius

IMD's seasonal forecast says there is a 52% chance of maximum temperatures in the core heat wave zone touching its peak between March and May.

Mumbai is already feeling the heat with extraordinarily high temperatures this year; February 28 was the warmest on record; temperature recorded at Santacruz weather station was 37.4 degrees Celsius, which is 5.3 degrees above normal

Met department says maximum temperatures in Delhi will be 4 degrees above normal; at 32 degrees over the next 24 hours. There may be some respite on Friday, with light rain.

Hailstorm, thundershowers are likely in Jammu & Kashmir, Himachal Pradesh and Punjab in next two or three days

Met official says, Shimla was warm this winter as temperatures were nearly two degrees above average

National Capital Region can expect slight relief with thundershowers on Saturday and maximum temperatures falling to 28-29 degrees on Sunday

The National Capital Region is breathing cleaner air; places like Noida, Palam and Lodhi Road saw "moderately polluted" air quality instead of "severe" or "poor", for the first time in 2018.
Post a comment