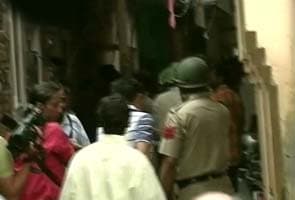 New Delhi:
A Delhi court today convicted the lone accused arrested in the 2008 Batla House encounter case -
Shahzad Ahmad
- of murdering Inspector MC Sharma who led a police team that stormed the building to capture alleged terrorists.
Below are some of the reactions on the court verdict:Ravi Shankar Prasad, BJP spokesperson
We are quite assured that the court after examining evidence has found the Batla House encounter genuine, and has convicted the terrorist apprehended. We today salute the bravery of Mohan Chand Sharma. What an irony, on the one hand, his widow was given Ashok Chakra by the UPA and on the other hand, ministers including general secretaries of this party were questioning the veracity of this encounter. Regretful and unfortunate.
Abhishek Manu Singhvi, Congress spokesperson

Nobody has been as clearest and strident as Congress party in condemning fake encounters wherever they have taken place. But after the judicial verdict has come after going through all the facts, all sections of the society should accept it.
Sandeep Dikshit, Congress leader
Digvijaya Singh had a particular point of view that certain people shared. Congress and the UPA took a stand that the Batla House encounter was the right step to take at the time. People have the right to take their stand. We aren't a competent authority to judge whether encounter was fake or not. It's up to the court.
P Chidambaram, Congress leader and Finance Minister

I spent a lot of time pouring over the papers and talking to officers involved. And I was satisfied that it was a genuine encounter. Unfortunately, we have lost a brave police officer. It was also unfortunate that some of the suspects have escaped. I am told that the lone captured terrorist was held guilty. I am glad that the police have been able to prove their case.
Maya Sharma, wife of slain Inspector MC Sharma
Court verdict proves the encounter was not fake. You tell me how it is for a martyr's family to keep hearing that this was a fake encounter? How it is for the parents who have lost their only son? Today it was proved that this was a genuine encounter.
BR Agarwal, Inspector MC Sharma's neighbour

Very upset with the Congress, especially Digvijaya Singh, for calling it a fake encounter. This will serve as a lesson for terrorists.
Digvijaya Singh, Congress leader

I respect the judgement on Batla House. It is for the aggrieved party to either accept the verdict or go into appeal. I had asked for a judicial enquiry into Batla encounter which I felt was fully justified but it was denied. I reiterate my earlier stand.
Dr Iftekhar Ahmed, Shahzad's grandfather
We are unhappy. This is sad news for us. Our lawyers failed to convince the court. We feel he is innocent. We were hopeful that the decision will come in our favour. We will discuss with our lawyers and decide on our course of action.
Karnail Singh, Former Joint Commissioner, Delhi Police

The stand of the Delhi Police is vindicated. It was a very sad day. Our team had gone to apprehend the suspected terrorist. I heard MC Sharma succumbed to injuries. Wwe had lost our case in the process. But the trial has vindicated our stand.
Kiran Bedi, former IPS officer
I am relieved after the court verdict. I am relieved that the court has upheld the police case.
Manish Tewari, Information and Broadcasting Minister

We have always maintained that there should be no politicisation and communalisation of terror.