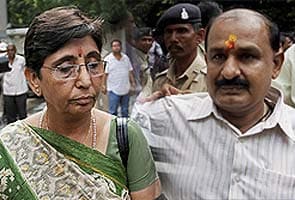 Ahmedabad:
Former state minister Maya Kodnani, sentenced to life imprisonment in the 2002 Naroda Patiya riot case, has filed a petition in the Gujarat High Court seeking bail and the suspension of sentence till her appeal is decided upon.
The petition, filed through advocate Hardik Dave, says that hearing on appeal may take long, so the sentence should be suspended.
It had been almost five months since her appeal was admitted by the High Court but the hearing had not yet started. The prosecution was yet to file its appeal, and the hearing would take long to complete. The trial itself had taken ten years, it points out.
The petition also claims that she was not "a flight risk" as she was living in the city for many years with "deep roots in the society" and had been a gynaecology practitioner.
Last August, Judge Jyostna Yagnik sentenced Ms Kodnani to 28 years in jail, while Bajrang Dal leader Babu Bajrangi was ordered to spend the rest of his life in prison. Eight others were awarded 31-year imprisonment, while 22 convicts got 24 years' prison term.
As many as 97 people were killed in Naroda Patiya locality of the city by a mob on February 28, 2002, a day after the Godhra train carnage.
Recently, Gujarat state legal department approved the recommendation of the Special Investigation Team (SIT) to file an appeal in the High Court seeking death sentences for 10 convicts, including Ms Kodnani and Mr Bajrangi.